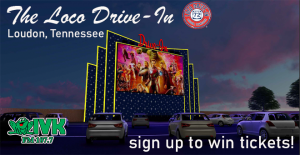 You could win tickets to the new Loco Drive-in in Loudon!  
The new LoCo Drive-In is located right off of I-75 on exit 72 on Highway 72 in Loudon, TN.
The LoCo Drive-In features the latest LED technology video board with all day capabilitie.  Movies, sporting events, concerts and more, catering to all ages and demographics and connecting the local communities.  While using an LED video board, instead of a traditional projector screen, we show all types of events both day and night. Our day to day function being drive-in movies. With movies ranging from all-time classics to children's movies to the latest blockbusters, there will be a movie for everyone every weekend!  The concession stand will be limited to core movie items. We will be bringing in food trucks every night to supplement this and create a wider variety of foods for all participants of the drive-in to enjoy!
To see a list of events and showtimes, visit www.locodrivein.com
Win tickets to the new Loco Drive-in!
Register to win tickets to enjoy a movie or special event at the new Loco Drive-in in Loudon, Tennessee!