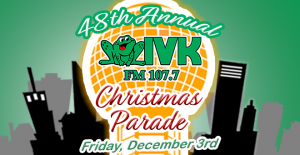 The 48th Annual WIVK Christmas Parade is scheduled for Friday, December 3rd, 2021. There are a limited number of spots in the parade.
The family tradition is back this year! For over 40 years WIVK has hosted the WIVK Christmas Parade in downtown Knoxville.
The parade begins at 7:00pm!
For participants: Check-in begins at 6:00pm. Step Off at 6:45pm.
Spots are limited so don't wait!
***School marching bands are free. Please fill out the application and we will need the release forms for participating students and staff***
if you have questions that are not answered with the included forms, please e-mail Jennifer Johnsey at jennifer.johnsey@cumulus.com