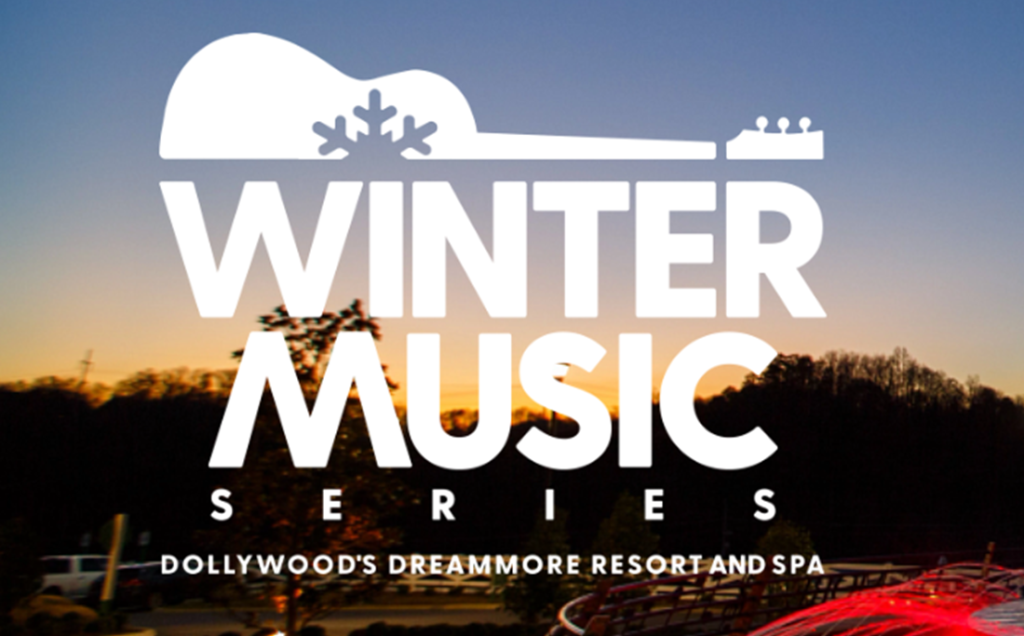 The Winter Music Series is back at Dollywood's DreamMore Resort and Spa.
During January, February and March, you'll be able to experience country music artists in an intimate setting. Stay tuned to WIVK for Classic Country on Sunday Nights with Kent Stephens for exclusive interviews with some of the featured artists!
---
Sign up to win tickets to the Winter Music Series at Dollywood's DreamMore Resort and Spa!
Five winners will be chosen for each show and one Grand Prize Winner will also be selected for the weekend of Aaron Tippin on 2/11 with a dinner reservation at Song and Hearth plus a one-night stay at DreamMore that Saturday night!
DreamMore Winter Music Series
---
The Young Fables
The Young Fables create music with classic storytelling weaved into traditional country music with pop sensibilities. East Tennessee natives Wes Lunsford and Laurel Wright's unique sound has resonated with audiences around the globe.
1/13/2023 — 1/15/2023
---
T. Graham Brown
Celebrating his 50th year in show business, T. Graham Brown continues to bring his soulful brand of country music to audiences everywhere. Multiple top ten hits, three number ones and a career that has included music, film, stage and television provide Brown with a unique perspective on storytelling and songwriting. While most of his hit records were in the 80s and 90s, Brown says, "I'm having more fun now than I ever have. I'm not out there chasing the hits, I'm just trying to stay out there. I'll keep taking the music to the people as long as God lets me. It's what I love to do!"
1/20/2023 — 1/21/2023
---
Sylvia
ACM Female Vocalist of the Year winner Sylvia performs special, acoustic renditions of her hits, including the chart-topping, two-million-selling crossover record "Nobody". Sylvia continues to entertain countless fans across the country by creating new music, like her newest release "Nature Child". According to Sylvia, "Music can inspire you to dream and go for it. It can be a soundtrack for your own dreamer's journey."
1/27/2023 — 1/28/2023
---
Jeannie Seely
Grammy award-winner and Grand Old Opry member, Jeannie Seely brings her individualism, infectious sense of humor and top-notch songwriting. In addition to her countless chart-topping hits, Jeannie also is a writer, storyteller and stage actor. In his book "Finding Her Voice: Women in Country Music", music critic Robert K. Oermann writes, "With her chin-out, tough/tender, heart-of-gold manner, Jeannie Seely remains one of country's most completely modern female personalities."
2/3/2023 — 2/4/2023
---
Aaron Tippin
Initially a songwriter for Acuff-Rose Music, Aaron Tippin gained a recording contract with RCA Nashville in 1990. His debut single, "You've Got to Stand for Something" became a popular anthem for American soldiers fighting in the Gulf War and helped to establish him as a neo-traditionalist country act with songs that catered primarily to the American working class. One platinum album, six gold albums and thirty years later, Aaron Tippin still enjoys performing for those who come out to see him, but don't call them "fans". He thinks of his audience as family. "They have been so great to me over the years, and they're still coming out to the shows. That's why I still sign autographs every night. I just want to get out there, shake their hand and give them a big hug–just to say thank you." Aaron Tippin wouldn't have it any other way.
2/10/2023 — 2/11/2023
---
Marty Haggard
Marty Haggard was born and raised in Bakersfield, California. Of course, everyone knows his Dad, Merle Haggard. Marty considers his dad the greatest singer/songwriter ever, and a lot of people agree with that. Growing up, Marty was able to travel with his dad and witness the writing and recording of all his great songs. He also had the opportunity to know many of the country greats, like Bob Wills, Lefty Frizzell and Johnny Cash, just to name a few. Marty's love for his dad and his music eventually inspired him to record a tribute to Merle Haggard "My Dad". In 2010, he recorded his first tribute album containing 15 covers of his dad's classics. This led to a tribute show in Branson, Missouri, where he performed for two years. In 2011, Marty released a tribute to Merle Haggard "My Dad", Volume Two. He then took the show on the road throughout the country, as well as Canada, Ireland, Scotland and England. As Marty's song "Apple" proclaims, "the apple never falls too far from its tree".
2/17/2023 — 2/18/2023
---
Mark Collie
Mark Collie is many things: a country music singer, songwriter, actor, record producer and philanthropist for Type 1 Diabetes. He has won awards and acclaim for his music, his acting, and his philanthropy. His singing career has included five major-label albums: four for MCA Nashville and one for Giant Records. Sixteen of his singles have charted on Billboard's Hot Country Songs chart including the top ten hits "Even the Man in the Moon is Cryin'" and "Born to Love You." Collie also has written songs for Aaron Tippin, Alabama, Garth Brooks, Tim McGraw, and JT Hodges. His acting career includes roles in "Fire Down Below", "The Punisher", and "Kill Switch".
2/24/2023 — 2/25/2023
---
Linda Davis
Linda Davis has recorded five studio albums for major record labels and more than 15 singles. Her highest chart entry is "Does He Love You," her 1993 duet with Reba McEntire, which reached number one on the Billboard country charts and won both singers the Grammy for Best Country Vocal Collaboration. Her highest solo chart position is "Some Things are Meant to Be" at No.13 in 1996. Davis is the wife of the country singer Lang Scott and the mother of Hillary Scott of Lady A. Davis won the Grammy Award for Best Contemporary Christian Album and Best Contemporary Christian Song as part of the Scott Family's album "Love Remains".
3/3/2023 — 3/4/2023