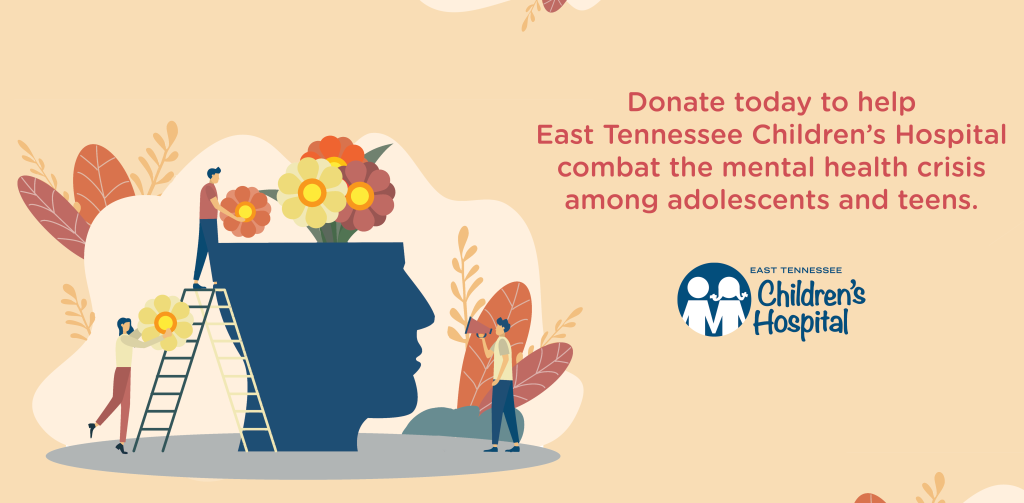 CHILDREN'S HOSPITAL LAUNCHES MENTAL HEALTH INITIATIVE FUND
Tennessee is facing a mental health crisis among our children, adolescents and teens with one in five Tennessee struggling with mental health concerns. Nearly 19% of all children in the state have seriously considered suicide. Critical cases like these are what we see most often in the Pilot Emergency Care Center at East Tennessee Children's Hospital.
Children's Hospital is launching a new designated fund to support and ensure our commitment to providing world class care to our mental and behavioral health patients. The Mental Health Initiative Fund is designed to support current initiatives and needs at Children's Hospital as well as help enhance education, assessment tool, programs and access.
"Every dollar donated to the Mental Health Initiative Fund will help grow programs which expand our reach and provide direct support to patients," said Adam Cook, Vice President for Institutional Advancement at East Tennessee Children's Hospital. "It was created to specifically address the growing mental health crisis seen in our community."
Children's Hospital needs the community's help to combat the mental health crisis affecting children across Tennessee. Visit www.etch.com/mentalhealth to donate to our Mental Health Initiative Fund and support the care Children's Hospital is providing every day.
###
East Tennessee Children's Hospital's vision is Leading the Way to Healthy Children.
Children's Hospital is a private, independent, not-for-profit pediatric medical center which has served the East Tennessee region for more than 85 years and is certified by the state of Tennessee as a
Comprehensive Regional Pediatric Center.