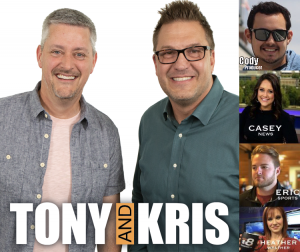 Tony & Kris are waking up East Tennessee each morning!  
Tune in every weekday at 7:40am to attend Kris' College of Country Knowledge. You could win one hundred dollars of Kris' money!  And just for trying, you get a $25 Gift Card to spend at Foothills Mall!
About The Hosts
Tony Randall 
and
 Kris Rochester
 worked in the San Diego and Nashville markets before moving to Knoxville. They met in 1991, and the two decided to join forces as an on-air team at a country station in Alabama. 30 years later the duo is still going strong!
About Cody the Producer
Hometown:  Mountain View, CA
Family/Pets:  Four other siblings (oldest of five total).  Girlfriend (Emily) and I have one dog, Astro.
Hobbies:  Video games, working out, working on cars, listening to music.
Favorite Band/Artist:  Green Day is all time favorite.
Celebrity Crush:  Rachel McAdams or Blake Lively
Guilty Pleasure Song: I can get a groove on to some Shania Twain (That Don't Impress Me Much).
Number One Item on Your Bucket List: Watch the Daytona 500 in person. Or drive a racecar, sorry mom.
Favorite Thing(s) About Living In Knoxville:  The people! Everywhere you go there seems to be happy helpful folks, and the lakes, love to go fishing and kayak.
Describe Yourself in Three Words:  Kind of Disappointing
How Did You Become Interested In Radio?  Came to The University of Tennessee and tried multiple "media outlets" out and fell in love with radio.
Favorite Career-Related Memory:  The beginning, being asked if I was interested in helping out Tony and Kris, on the morning drive. It was a big deal for me as I was still very very "new" to radio. They couldn't be any better mentors in the world then these guys, they're awesome, I got lucky.