By Jimmy Hyams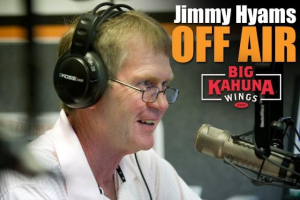 (This is the first in a three-part series from a recent interview with former Power 5 head coach and CBS analyst Rick Neuheisel on SportsTalk radio The Sports Animal. Part One is about UT players taken in the most recent draft.)
Tennessee had only two players taken in the most recent NFL draft, but CBS analyst Rick Neuheisel thinks both will make a huge impact with their pro teams.
Receiver Josh palmer, who never had a 500-yard or five-touchdown season at Tennessee, was the 77th overall pick in the draft, going to the Los Angeles Chargers in the third round.
Trey Smith, despite a decorated college career, went in the sixth round to Kansas City due to medical concerns.
"Josh Palmer, to me, is an excellent receiver,'' Neuheisel said on SportsTalk last week.
Neuheisel pointed out that Palmer made big-time catches against defensive backs at Georgia and Alabama.
"He's a 50-50 ball catcher,'' Neuheisel said, "but he probably tips the scales in 65-35 in favor of him because of his athleticism.
"He's a guy that was a product of inconsistent quarterbacking.''
If Tennessee had better quarterback play during Palmer's career, Neuheisel thinks Palmer could have been drafted higher.
Neuheisel thinks Palmer landed in a perfect situation, as quarterback Justin Herbert set an NFL rookie record for touchdown passes in a season, and two veteran receivers – Mike Williams and Keenan Allen – will take pressure off Palmer to produce immediately while also serving as tutors.
"Josh Palmer might find himself in the conversation for Rookie of the Year before you know it,'' Neuheisel said.
The former head coach at Colorado, Washington and UCLA is equally high on Smith, who suffered from blood clots in 2018 but didn't miss any playing time the last two years.
"I think the Kansas City Chiefs got a steal,'' Neuheisel said. "They've got to be elated that they got somebody of that talent at that point in the draft.''
The lone issue with Smith is whether the college regimen that allowed him to play will be suitable for NFL teams.
"We all keep our fingers crossed that Trey is healthy and past the medical issues that have plagued him,'' Neuheisel said. "Obviously, that's the reason he fell to the sixth round. A lot of teams were unwilling to take the risk, given that they're not sure exactly what his long-term prognosis is.''
The fact that Tennessee has had just 13 players drafted in the past seven years is an indication of how far the program has fallen, when you consider Alabama had 10 players taken in the most recent draft, six in the first round.
Tennessee has had six first-rounders in the past 13 years.
"It's a huge barometer,'' Neuheisel said of the draft. "Absolutely a huge barometer.''
---
Sponsored by Big Kahuna Wings: The wings that changed it all