By Jimmy Hyams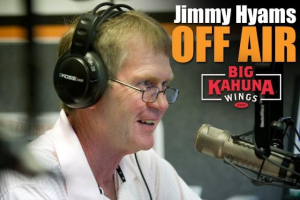 (This is the second in a three-part series from recent interview with former Power 5 head coach and CBS analyst Rick Neuheisel on SportsTalk radio The Sports Animal, 99.1 FM, 990 AM. Part Two is about Josh Heupel's system and the rebuilding job he faces.)
In the past 13 years, Tennessee has had eight losing seasons and two winning records in SEC play.
It has lost over 25 players to the transfer portal. It has released four players from the most recent National Letter of Intent signing.
It has had six coaches since 2008 and five athletic directors.
It has been described by more than one coach as a "dumpster fire.''
Josh Heupel faces a monumental rebuilding job under much greater scrutiny than he faced while leading Central Florida to a 29-9 record in three years.
He has already suspended six players.
He has signed five from the transfer portal and garnered four commitments from three-star prospects.
So he's he doing?
"Josh has done an excellent job,'' said CBS analyst Rick Neuheisel.
Heupel learned from his days as offensive coordinator at Oklahoma and developed Drew Lock at Missouri into a second-round NFL draft pick, Neuheisel said.
His system takes advantage of the numbers in the run game and pass game.
"Heupel is aptly named because he likes to go hyper drive,'' Neuheisel said. "It is going to be fast. Don't get a hot do at Neyland or you'll miss a few plays.''
UT fans got a taste of the warped speed attack during the spring game as the Vols tried to snap the ball with about 30 seconds left on the 40-second play clock.
Neuheisel is confident Heupel will be a productive offense on the field because it's easier to score points with average talent that stop teams with average defensive talent.
"You can survive offensively with average talent because of your scheme,'' Neuheisel said. "You watch Army and Navy do it every year. There are lots of ways to create triple options.
"But you can not survive without talent on defense. You're going to run into teams that even if the X and Os are crazy, somebody will out-athlete you on the field.''
Neuheisel expects Heupel to run a lot of plays to his side of the field so they can go faster. He also expects few substitutions because then the defense can sub and slow things down.
Neuheisel also expects Heuple to take his fair share of shots downfield.
"Having coached (against Tennessee) at Rocky Top,'' he said, "I know Volunteer fans love the deep ball.''
Neuheisel said athletic director Danny White hiring Heupel indicates White will be patient with his coach and the program.
"That's signaling we can do this the right way,'' Neuheisel said. "We can put it together and build something sustainable rather than just try to get a quick fix and get to a bowl game this year.
"Let's make sure we put things together that for the long haul and the Rocky Top nation can enjoy football the way they remember it.''
---
Sponsored by Big Kahuna Wings: The wings that changed it all