By Jimmy Hyams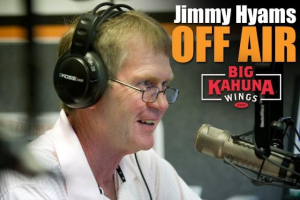 Cameron Walker said he usually is not an optimist.
He sees pitfalls and potential problems with new ventures.
But when it comes to Name, Image and Likeness for student-athletes, Tennessee's Deputy Athletic director for Competitive Excellence has a different viewpoint.
"I'm not normally optimistic,'' Walker said during a zoom call with media Friday morning. "But I see bright spots and positives coming out of this.''
He said UT's job isn't to provide a list of "don'ts'' but to say "this is how it's done properly'' and then to "encourage them to make the best business decision.''
Some Tennessee student-athletes have already launched methods to make money.
Tennessee's role has been to "empower and educate'' the student-athletes, Walker said. Educating fans and boosters is also a priority.
Walker did admit "we will make some corrections along the way,'' and there will be "growing pains'' and there could be "discord in the locker room'' if an athlete makes considerably more than another.
But Walker also said UT has some "incredibly bright and smart'' student-athletes and "a lot of them have a plan. … They will surprise us in a variety of ways'' as to how they will make money.
Walker, hired in January, said many of the NIL measures were in place at Tennessee before he arrived to help student-athletes. UT has one primary goal: "How can we put the student-athlete in the best position possible to expand their personal value … and to do it smartly.''
Walker cautioned that student-athletes shouldn't take the first offer. They should proceed with caution and determine if they want a short-term or a long-term benefit.
"Every decision opens doors or closes doors,'' Walker said. "Our aim is to educate them to ask the right questions.''
The scope of how they can use their NIL to make money is far reaching, but they are not allowed to make money off gambling sites.
They can also seek endorsements and advertising from other student-athletes to promote their business.
They must file taxes for earnings, if required, and they can get help from classes offered by UT's college of business.
Athletes are allowed to hire agents.
Athletes may use the UT logo with permission and depending how it is used. "It's on a case-by-case basis,'' Walker said.
Walker said there is no limit on what an athlete could get paid for signing an autograph or making a speaking engagement.
Many have concerns that a booster could pay $100,000 for an autograph, thus leading to prospective recruits wanting to attend that school in hopes of landing a similar deal.
There are potential conflicts of interest. UT is a Nike school. A player who promotes another brand can't wear that brand on the field, but could endorse that brand in a photo shoot.
Before implementing its plan, UT talked to the SEC, the NCAA and other schools.
"Most of the questions (from athletes) are, `I can really do this right?''' Walker said. "That's basically the bulk of it at this point. I'm incredibly impressed with some of the questioned we get and the foresight as they look to build their brand.''
---
Sponsored by Big Kahuna Wings: The wings that changed it all