By Jimmy Hyams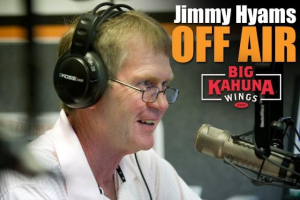 Tennessee quarterback Brian Maurer didn't practice Wednesday and didn't scrimmage Thursday morning after tweeting Tuesday night that "they took my dream away after four days.''
But coach Josh Heupel on Thursday left open the door for a return.
"We had an initial conversation with him a few days ago as far as reps and how those things were going to be divided up,'' Heupel said. "No further update on him. We'll have a conversation with him during the off day (Friday).''
Asked directly if Maurer is no longer on the team, Heupel said: "I told you I'd give you guys an update after the off day.''
Maurer, apparently, was upset with what Heupel said regarding practice reps.
Meanwhile, Heupel said Michigan transfer Joe Milton did well during his first scrimmage as a Vol. He joined the team after spring practice.
"I thought he managed things well inside the pocket,'' Heupel said.
But he also liked much of what he saw from the other quarterbacks: Hendon Hooker and Harrison Bailey.
"I thought all of them did a great job taking care of the ball and were efficient in calling it, for the most part,'' Heupel said.
He also said the quarterbacks' decision-making on the run game and pass game was "pretty solid.''
But, he said, "We didn't string things together the way we want to or need to.''
Heupel had high praise for the defense.
"I thought the defensive side of the football was extremely physical, changed and disrupted the offensive front,'' Heupel said. "Played on the other side of the line of scrimmage and tackled extremely well. You didn't see many missed tackles during the course of play.''
That's extremely encouraging for a unit that many feel will struggle to contain the top offenses in the SEC. The defense was also ravaged by players transferring, leaving little depth.
The Vols do have some talented players on defense, led by pass rusher Byron Young and Tyler Baron, tackles Matthew Butler and Aubrey Solomon, and defensive backs Alontae Taylor and Theo Jackson. That doesn't include six that UT signed out of the transfer portal.
Heupel is pleased with the progress of the defense from the end of the spring to the first day in pads during summer camp.
"It's a different group,'' Heupel said. "It's different on the practice field, the physicality, playing upfield, disrupting and changing the line of scrimmage. Consistency, work habits, the ability to learn and play for the guy next to them and do it right. The accountability in the room is completely different. That's why it will be different on the field, too.''
Heupel said a huge percentage of the offensive and defensive systems have been installed, but he said that is an ever-growing process.
"As you go through the course of a season,'' he said, "you will continue to grow and evolve and find ways to attack people on the other side of the line of scrimmage as you game plan. There's no set playbook (as in) this is all we do and only what we do. You've got to continue to evolve as the game changes, as your opponent changes and as you find out more about your personnel.''
Heupel said Darnell Wright has done well at left tackle.
"I think Darnell is really natural on the left side,'' Heupel said. "He's athletic. He has the ability to bend. Has a chance to be an elite pass protector.''
Heupel said he feels good about Wright and right tackle Cade Mays.
Heupel also said offensive lineman K'Rojhn Calbert, who suffered a torn bicep in practice last week, has had surgery and will be out an extended period of time.
Sponsored by Big Kahuna Wings: The wings that changed it all