By Jimmy Hyams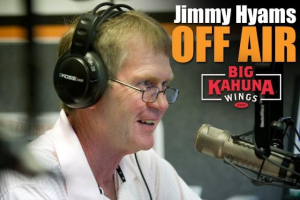 Tennessee's top two running backs in 2020 hit the transfer portal.
Eric Gray figures to split time at Oklahoma with Kennedy Brooks.
Ty Chandler figures to start for Mack Brown at Oklahoma.
While that's a blow to UT's backfield, the Vols could still feature two productive running backs in Josh Heupel's high-octane offense.
Jabari Small and Tiyan Evans have separated themselves from the running back pack and could rank in the middle of the SEC's ground game duos.
"Those two have really been a good one-two punch throughout fall camp,'' said Tennessee running backs coach Jerry Mack.
Small (5-11, 206) has the most experience of the backs, carrying 26 times last year.
"Jabari, obviously, is a little bit smaller, little bit shiftier,'' Mack said. "Has some experience playing the receiver position. So he can do a lot of things as far as his repertoire.''
In fact, Small has had several relatives play receiver in the SEC and the NFL. And he played some receiver in high school. He could line up in the slot.
Evans (5-11, 220) is a junior college transfer who missed the spring due to injury.
"He's been a really pleasant surprise,'' Mack said. "We always knew that Tiyon had some strength levels that some of those younger backs didn't have.''
Mack said Evans runs with "power'' between the tackles, has "great ball skills'' and returned kickoffs in junior college.
"The biggest thing that I've been really shocked at is the way he runs outside the zone,'' said Mack, comparing Evans to Hall of Fame running back Terrell Davis. "He has a real knack and a great feel for it.''
Asked if Evans could be a short-yardage back, Mack said yes, and more.
"I think Tiyon can do it all, to be honest with you,'' Mack said. "Not just short-yardage (but) an every-down back, whether it's first or second down.''
Asked if he'd like to get Small and Evans on the field at the same time, Mack said: "I would love to. I would love to. … That 1-2 combination on the field at the same time, I think that would be really cool.''
Mack said Evans has the skill set to play all three downs. He also said UT recruits all-purpose backs that you don't have to take out of a game.
UT likes to pass to backs out of the backfield and "we've got some guys that have elite ball skills.''
One of them might be speedster Jaylen Wright, a freshman who said he's been hand-timed in 4.28 seconds over 40 yards.
Mack complimented Wright's progress since the early enrollee went through spring drills, and said he's grown "leaps and bounds'' over the last six practices.
"When things didn't go quite the way he wanted them to in practice in the spring, we saw an emotional Jaylen Wright,'' Mack said. "In this fall camp, he hasn't been that emotional at all. He has taken heed to what Coach (Josh Heupel) talks about in putting that play behind you and moving on to the next play.''
Dee Beckwith, a former quarterback, has unusual size for a running back: 6-foot-5, 227 pounds.
Mack said Beckwith's size helps him in pass protection, but a disadvantage is "playing with great pad level … because they're a big target for linebackers and safeties running through the middle.''
Mack said Len'Neth Whitehead has had a "good camp'' and brings "physicality'' to the run game as a former linebacker. Whitehead also must learn to run with a lower pad level, Mack said.
Prediction: Small and Evans will combine for over 1,600 yards from the line of scrimmage — rushing and receiving.
---
Sponsored by Big Kahuna Wings: The wings that change it all