By Jimmy Hyams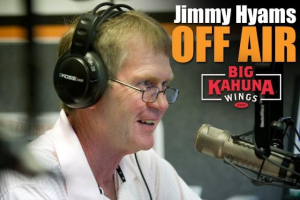 Tennessee has had eight losing season in the past 13 years.
The Vols haven't been relevant in the SEC East Division race but once since 2007.
Some 37 players have hit the transfer portal since the start of last season (including three quarterbacks), a dozen wound up at Power 5 schools, four more were released from their National Letter of Intent and two more retired from the game due to injury.
"It's going to take a while for Tennessee to get back to Tennessee,'' said one SEC coach, speaking on the condition he not be identified.
"Tennessee fans need to be patience with Josh Heupel because Heupel inherited a mess, like Jeremy Pruitt inherited a mess, like Butch Jones inherited a mess.''
A mess.
That's what Tennessee football has been for much of the past 13 years.
A once-proud program hasn't been able to compete with the elite in the SEC.
Tennessee hasn't beaten Alabama since 2006, has one win over Florida since 2004 and just two wins over Georgia since 2009.
Ouch.
"Fans will need to be patient,'' one SEC coach said. "Tennessee hasn't been Tennessee since the year (2007) before (Phillip) Fulmer got fired (2008).''
Tennessee fans are tired of being told to exercise patience, but it's not Heupel's fault he inherited a mess with a depleted roster.
So, Can Heupel get the job done at Tennessee?
"I like Josh Heupel,'' one coach said. "He is going to be good on offense. My concern with Josh is his ability to recruit in an SEC environment. He has no clue.
"Hiring (defensive line coach) Rodney Garner helps because he's one of founding fathers of SEC recruiting.''
While Heupel is expected to call plays, he has entrusted his defense to Tim Banks, who was hired from the Penn State staff.
"I don't know much about (defensive coordinator) Tim Banks,'' one coach said. "It will be interesting to see what he can do with what he has. I know many (defensive players) entered the transfer portal.''
Despite Tennessee's myriad of coaching changes, the Vols have continued to recruit at a decent level, averaging out at about a 15 ranking over the past decade. But that hasn't translated on the field or in the national regular-season polls.
"Tennessee is like a stock that everyone is hoping will be a 10 but it's down to an 8.5,'' one coach said.
That might be generous.
---
Sponsored by Big Kahuna Wings: The wings that changed it all