By Jimmy Hyams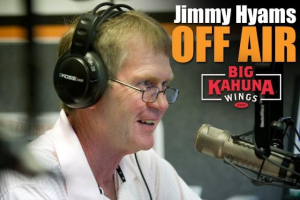 The Joe Milton Era at Michigan didn't end well, but the end game at Tennessee could be successful.
In fact, a reporter who covered Milton at Michigan would be "stunned'' if Milton doesn't do well at Rocky Top.
"Talking to guys who worked with him here,'' said Angelique Chengelis, who has covered Michigan football for 30 years, "the guy has tremendous upside and I'd be really stunned if he can't fulfill that at Tennessee.''
If so, then why did he fail in three years at Michigan?
The 6-foot-5, 244-pound Milton started five games for Michigan last season. In the first three games, he passed for 225 then 300 then 344 yards. The latter two games were defeats.
In Game Four against Wisconsin, he was 9 of 19 for 98 yards with two interceptions.
At Rutgers, he started 5 of 12 and was benched.
In his last three starts, he completed less than 50 percent of his passes (32 of 65). He also had four interceptions against three touchdown passes in those games.
Chengelis didn't think it was all Milton's fault.
"To be fair,'' she said, "the whole team pretty much collapsed after the opening victory at Minnesota.
"He didn't get a lot of support. The run game wasn't always clicking. They got behind fast. A lot was put on his shoulders for a first-time starter. A lot of pieces weren't there for him.''
But Chengelis wasn't absolving Milton from all blame.
"He still had a lot to learn,'' she said. "His accuracy wasn't there. He tended to zero in on one guy. He didn't check down very much. He felt rushed.''
When Michigan went to backup quarterback Cade McNamara, the offense started to jell.
Milton has a strong arm, but touch is not one of his strengths.
"He has a rifle arm,'' Chengelis said. "He really throws a bullet. I remember talking to some Michigan receivers (in 2019). They talked about how it hurt to catch the balls that he threw. He throws that hard.
"The other issue was, a lot of quarterback coaches that worked with him, worked to develop touch. I think it's fair to call it a weakness of his. Maybe he's improved that since he got to Knoxville. … But if you want someone that can throw 100 miles per hour, you got him.''
During early August practices, it was common for UT receivers to have balls bounce off their hands as Milton fired fastballs.
How much Milton has improved his touch remains to be seen.
A powerful arm isn't Milton's only physical trait. The guy is extremely fast for his size. In his first two starts last year, he ran for 52 yards against Minnesota and 59 against Michigan State.
Chengelis described Milton as a pro style quarterback who can run.
"Dual threat is a stretch to describe him, but he's immensely talented,'' Chengelis said. "He's a phenomenal athlete.
"I think he needs really good coaching. Maybe he didn't get that at Michigan. And maybe he can get that in Knoxville and really reveal how good he can be.''
Asked to gauge Jim Harbaugh's developing of quarterbacks as above average, average or below average, Chengelis went with the latter.
"Everybody talked about (Harbaugh being) a quarterback whisperer,'' she said, "and everybody is waiting to see that come to fruition here.''
Meanwhile, Milton will get his first start for Tennessee against Bowling Green on Thursday night at Neyland Stadium.
Can Milton resurrect his career and play well for the Vols?
"I would be surprised if he didn't,'' Chengelis said. "He's got talent. He's got the arm. He's got the ability. I think he can be a good leader. I don't think he had a chance to flex those muscles much (at Michigan).''
---
Sponsored by Big Kahuna Wings: The wings that changed it all