By Jimmy Hyams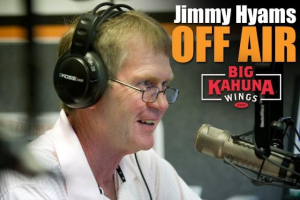 There's a lot of blame to go around when you go 3-7, get blown out at home by Kentucky, fall to a 3-win Arkansas team and score fewer than 20 points in six games.
Tennessee's quarterback play was poor last year. The offensive line underachieved. The pass rush was sporadic. The secondary was riddled with holes. And the defensive line didn't play up to its ability.
It's the latter that bothers defensive tackle Matthew Butler, and he's vowed to fix it.
Butler had two defensive line coaches least year: Jimmy Brumbaugh, who was fired after four games, and head coach Jeremy Pruitt, who appeared to let graduate assistants do some instructing.
The results were not good, but not as futile as you might think.
Tennessee's run defense ranked fifth in the SEC (141.6 yards per game). It held three opponents to fewer than 100 yards rushing — Florida got 19. Only one team (Kentucky) had more rush yards than pass yards. And only one team (Texas A&M) rushed for more than 200 yards.
On the surface, that doesn't look too bad. But in reality, the front four didn't perform like it needed to – like it did the seasons before under defensive line coach Tracy Rocker.
Butler, who has had six position coaches, vows that the defensive line will be the most improved unit on the team.
"We've made leaps and bounds since the spring,'' Butler said. "And we're going to continue to take leaps and bounds. That's a goal of ours.''
There are two primary reasons for Butler's optimism: New defensive line coach Rodney Garner and a veteran group of defensive linemen that includes five seniors.
"First of all, I've loved every single dude that has come in and out of our room,'' Butler said. "Those are my guys. It's like my family away from my family. We do things together, we talk all the time, cracking jokes and acting plain foolish sometimes.
"The guys that left (transferred) everyone has their own situation. But the guys that are here now, we've got to make it happen. Not just make it happen, but really make it happen. Like we have some really good guys in that room. We're going to step up, we're going to be the rock of the defense.''
Their leader is Garner, a veteran SEC coach who has sent a plethora of players to the NFL and who recruited four key players that helped Tennessee win the 1998 national championship.
What has Garner meant to the defensive linemen?
"Oh, he means a lot.'' Garner said. "We all know who coach Garner is, from his past. He is a dude. He's the dude. He's the best of the best, so you go in there and listen to what he says. You apply it to your game right away, no ifs, ands or butts about it, because you know it works. It's been amazing.''
Butler describes Garner as a fiery coach on the field but one that loves the players off the field and wants them to be well-rounded individuals.
Butler admitted that going through the carousel of defensive line coaches over the past four years "has to impact you in some ways,'' naming the multitude of coaches who have tutored him.
"Now that we have the best coach with us in the country,'' Butler said, "what else can you really ask for.''
---
Sponsored by Big Kahuna Wings: The wings that changed it all