By Jimmy Hyams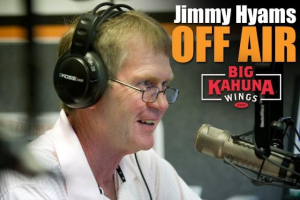 Despite the final score, despite the rushing yards, despite the third-down conversions, what Tennessee did Thursday night in its opener against Bowling Green wasn't good enough.
It wasn't good enough to beat the 50-50 teams on its schedule.
It wasn't good enough to scare any SEC opponent.
And it wasn't good enough to appease a fan base that expected more.
Tennessee trudged its way to a 38-6 victory over what was the worst team in the FCS last year, a team that went 0-5 and allowed 45 points per game. But at least it was a victory for a program coming off a 3-7 season.
"The pass game was really hit and miss for us tonight,'' said first-year coach Josh Heupel, who didn't want to minimize the victory but also didn't want to sugar coat the concerns. "We have to be a whole lot more efficient in the pass game,
Running a high-octane offense, Tennessee completed just 12 of 24 passes for 145 yards and a touchdown. UT connected on one pass – count it, ONE — in the second half, a not-so-well-thrown ball that forced Cedric Tillman to out-maneuver a defender for a 41-yard score.
Quarterback Joe Milton, the athletic transfer from Michigan with the cannon for an arm, turned in mixed results. He rifled in several passes in the first half, but he also misfired on a few, didn't see some open receivers, didn't make the defense pay when he had all day to throw and lost a fumble.
All in all, Milton's performance was average at best, although he did score on a couple of short runs.
"A couple of times,'' Heupel said, "I didn't like his decision making. We had some guys running open down the middle of the football field he doesn't recognize or see. There are some things he's got to clean up.''
That was one of the raps against Milton at Michigan, where he lost his starting job last season after five games and was benched in his last two starts.
But clearly, Milton has immense talent. He engineered Tennessee on scoring drives of 66 and 67 yards on the first two possessions for an early 14-0 lead.
But then the offense stalled. Center Cooper Mays went out with an injury on the third possession — Heupel said he is expected back next week – and that seemed to bog down the attack. UT went the next three possessions without scoring. A holding penalty, a drop and a sack contributed to the malaise.
Leading 14-6 at halftime, UT scored on two of its first three drives in the second half behind a stout run game. But the 34-point favorites managed only a field goal on its next three possessions.
Jalen Hyatt led the team with four catches for 62 yards, but he had at least two drops.
While the pass game struggled, the run game was, at times, overpowering. Jabari Small and Tiyan Evans each ran for 116 yards and a touchdown, with Evans actually impressing more.
The Vols finished with 326 rushing yards.
Another bright spot was the defensive line, which dominated up front and limited the Falcons to just 32 rushing yards on 23 carries.
The pass defense got burned on a couple of wheel routes and throws over the middle, but didn't yield a touchdown.
While Bowling Green wasn't much of a test, holding a team to six points – and 219 total yards — is an achievement nowadays.
"We played with passion, effort and energy on defense,'' Heupel said.
The Vols did reel off 88 plays. Last year's average was 66 per game.
Heupel said he doesn't have a set number of plays he wants to run in a game, he just wants "operate" more efficiently.
Said Heupel: "We can be a whole lot better.''
The Vols might have to be to beat Pitt. Kickoff is set for noon Sept. 11 at Neyland Stadium.
GAME NOTES: Wide receivers Ramel Keyton and Jimmy Holiday did not play for Covid related reasons, a source said. … Defensive end Byron Young didn't play. Heupel said UT is working through some eligibility issues at his previous school, Georgia Military Academy. … In a surprise, Ollie Lane was inserted at left guard after Cooper Mays was injured and left guard Jerome Carvin moved to center. … The tickets-sold announced crowd was 84,314. The actual crowd was closer to 70,000. … UT was 7 of 15 on third down while BGU was 2 of 14. … The Pitt game has been dubbed the Johnny Majors Classic, since Majors played and coached at UT and coached Pitt to the 1976 national championship.
---
Sponsored by Big Kahuna Wings: The wings that changed it all