By Jimmy Hyams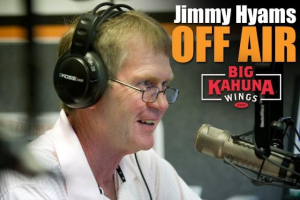 You commit 13 penalties, lose the turnover battle 3-0, have a touchdown called back and twice fail to score a touchdown from inside the 5-yard line.
And yet, there you are, on the plus-34-yard line with 5:33 left with a chance to score a mild upset over 3-point favorite Pitt.
You've made enough mistakes to lose two games, but a win is still within your grasp.
Until the ill-fated pass toward the left hashmark.
Tennessee backup quarterback Hendon Hooker apparently didn't see the safety cutting across the field and fired an interception that basically sealed the deal as Pitt escaped 41-34 in the first of two Johnny Majors Classic contests.
Pitt managed two first downs to run out the final 5 minutes to drop Josh Heupel's team to 1-1.
If you're a Tennessee fan, you're sickened by the missed opportunities.
But if you're a Tennessee fan, you must also be encouraged by the thought that if you play a clean game, you've got a chance to be pretty darn good.
Is there potential in an offense that left so many plays on the field yet still scored 34 points against a Power 5 team?
"Hundred percent,'' said Vols tight end Jacob Warren, who had five catches for 55 yards and a touchdown, and could have had another if not for an overthrown pass.
"Our expectations are high. When you know you can do better, but it's just not good enough.''
Tennessee started the game in a mission, de-cleating Pitt's returner on the opening kickoff. Then freshman Christian Charles surged through the line to block a punt and set up a touchdown from the 2-yard line.
"We saw some things (on tape),'' Charles said, adding that he switched spots with a teammate before scissoring through the line.
Tennessee led 10-0 about 10 minutes into the game as the defense force three three-and-outs.
The lead could have been bigger. Quarterback Joe Milton misfired on several long balls, including one to a wide open Warren over the middle, and Jalin Hyatt dropped one in the end zone.
Pitt's offense finally caught fire, scoring on five consecutive possessions to take a 27-20 halftime lead.
Meanwhile, Milton was sacked, fumbled and injured six minutes into the second quarter and didn't return.
Enter Hendon Hooker, the fifth-year grad transfer from Virginia Tech known more as a runner than passer (he had two games at Tech in which he rushed for more than 150 yards).
"Hendon did a great job, coming off the bench and competing,'' Heupel said.
On his second possession, Hooker hit Jimmy Callaway on the right sideline and Callaway tight-roped his way for a 44-yard score to tie the game at 20-20.
From that point, the outcome was in Hooker's hands.
Early in the third quarter, Theo Jackson returned a shot field-goal attempt over 100-yards for an apparent touchdown.  UT was called for a block in the back and so was Pitt, both after a change of possession. Yet, the ruling was off-setting penalties and replay the down.
Pitt then penned UT at its 3-yard line, held, got the ball back in prime field positions and scored to take a two-touchdown lead.
Hooker threw a touchdown pass to cut the margin to seven, but Pitt answered with a touchdown toss from Kenny Pickett.
UT scored again, set up by Hooker hitting Warren for 34 yards to the 2.
With less than 10 minutes left, down by seven, UT marched from its 33 to the 3-yard line, where Hooker, on third down, was ruled short of a first down, even though video evidence suggested he had the first down.
Heupel considered calling a timeout, but he had only one left, so he asked the official if the replay ref was taking a second look.
Apparently, he wasn't.
The Vols then ran 190-pound freshman Jalen Wright up the middle from the shotgun formation, a questionable call under the circumstances.
Why not have the quarterback under center? Or run Hooker wide, rather than pound up the middle?
Pitt stuffed Wright.
Even though UT got the ball back at the Pitt 34 with 5:33 left, Hooker threw a pick on the second snap.
Game. Set. Match.
Hooker clearly outplayed Milton, going 15 for 21 for 189 yards and two touchdowns whikle also rushing for 48 net yards.
Milton was 7 of 12 (all five misses were deep throws) for 50 yards and a lost fumble.
Who starts against Tennessee Tech this Saturday?
"We'll go back and watch the tape and evaluate everybody,'' Heupel said.
Heupel lamented the penalties, which included two personal fouls, blocks in the back, pass interference, illegal procedures and a player taking off his helmet while on the field.
"That's not who we've been (in practice),'' Heupel said. "we've got to be better a competitive composure.''
UT's run defense was stifling, holding Pitt to 96 yards on 45 carries, with several gains due to Pickett's scrambling.
Pitt did find holes in the secondary, throwing for 301 yards.
Bottom line, this was a game Tennessee could have won with fewer mistakes.
"We're capable of being a whole lot better than we were today,'' Heupel said.
NOTES; RB Tiyan Evans didn't play but was not injured … RB Jabari Small was hurt on the last play of the first half on a run when UT was running out the clock. Why not have the QB take a knee and not rish injury? … C Cooper Mays didn't play (ankle). … DE Byron missed his second game as his eligibility issue has yet to be resolved.
---
Sponsored by Big Kahuna Wings: The wings that changed it all