By Jimmy Hyams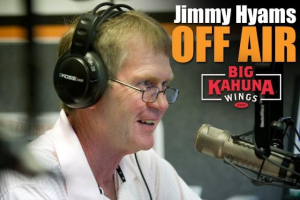 Having played in the SEC, Kodi Burns knows the difference in intensity between playing Bowling Green and a bowl-bound team from the SEC.
And this Saturday, it doesn't get any more intense than playing at Gainesville.
"Obviously, you come to Tennessee to play in games like Florida, right?'' said Burns, Tennessee's first-year wide receivers coach.
No. 11 Florida, which has won 15 of the last 16 meetings in this series, is favored by between 16 and 22 points.
"Florida is a really good opponent, a really good team,'' Burns told the Knoxville Quarterback Club on Monday.
"It's our job to go out there and really compete, and not only compete, but try to … win the game and shock the world, because outside of this room, not a lot of people give us a chance. But as long as we believe within our team and our coaches, we've got a chance to go shock the world.''
Burns said he likes his receiver room, but his unit can get better as he cited several drops.
He said Velus Jones Jr. is "a really good player with the ball in his hands'' as evidence by his kick and punt returns against Tennessee Tech and 45-yard scoring reception.
He said Jimmy Callaway is "really special'' with the ball in his hands and "with his ability to make people miss out in space.''
He said Jalin Hyatt, knocked out of the Pitt game due to a concussion, has great speed but must "grow and develop'' to become a "wholistic receiver.''
Burns said his receivers read a lot when running routes. While some schools have pre-called go routes or slants or fades, UT react s to the defense.
"In this system, just about every single play, they have the option on what route they run based on the defensive look,'' Burns said. "That chemistry (between quarterback and receiver) is still not there. That's why I think you'll see us get better every single week because the timing and chemistry will come along.''
Burns said having pass-catching tight ends "100 percent'' helps the receivers. "It takes a lot of stress off the receivers when you do have a tight end as a threat to catch the ball. That will really help out the passing game.''
Burns said UT does ask receivers to block, but not very often since so many plays are run-pass options.
One person in the audience tried to trip Burns up by asking which quarterback the receivers prefer.
Head coach Josh Heupel has been coy about announcing a starter for each game.
Burns chuckled, then said: "I tell my guys, `I do not care who is playing quarterback. We've got to make sure we're right, we've got to make sure what we do is crisp and clean … to take stress off that guy'''
Tennessee has misfired on a number of long balls, whether it's an overthrow by the quarterback or a drop by the receivers. Burns thinks the Vols will get that corrected.
"We're going to get there,'' Burns vowed. "If we can connect on a few of those balls … it's a different season already.
"Eventually they're going to hit. We plan on that being this week.''
---
Sponsored by Big Kahuna Wings: The wings that changed it all