KNOXVILLE, Tenn. — After back-to-back road games to begin conference play, Tennessee football returns to Neyland Stadium Saturday to host divisional foe South Carolina. The Vols took Haslam Field Tuesday to commence preparations for the SEC home opener, set for a noon kickoff on ESPN2.

Defensive coordinator Tim Banks, offensive coordinator/tight ends coach Alex Golesh and select UT players met with members of the media Tuesday to review Tennessee's dominant 62-24 victory at Missouri and to preview the upcoming bout with the Gamecocks.

Banks' defensive unit is among the league leaders in rushing defense (104.0, 4th SEC/24th FBS), tackles for loss (8.4, 3rd SEC/7th FBS) and passes intercepted (6, 3rd SEC/19th FBS). The first-year coordinator spoke to his group's ability to defend the run and balancing his personnel to play winning football week in and week out.

"We try to live game by game, quarter by quarter," Banks said. "At the end of the day, we feel like we are trying to play to our players strength, whatever it is. Obviously as we identify the strengths and weaknesses of each opponent, we try to put a defense or a plan together that gives us an advantage. In this day in age, you have to be able to stop the run, but at the end of the day, to me, it's just based on that personnel and how we utilize them and give them the best chance to be successful."

Coming off an offensive clinic at Mizzou which saw the Vols put up historic numbers, Coach Golesh emphasized the program's need to continue focusing on the perfecting the process and avoid getting caught up in results.

"You can't live on the end result," Golesh said. "The end result takes care of itself. In elite programs, the process is right. From January 28 to today, all we've cared about is our process of how we prepare, because if you prepare like a winner, you win, generally. If you prepare like a loser, you lose. So, that's been our mantra or whatever. I'm not a slogan guy, but that's been our call to them is, how do we get them to perfect their process in everything we do?"

Senior offensive lineman Cade Mays feels the team is starting to hit its stride and come together as a unit. The Knoxville native was named SEC Offensive Lineman of the Week and was quick to pass praise along to his teammates in his comments to the media on Tuesday.

"It was just huge, but we got a new week this week," Mays said. "I was very blessed to have that honor, but like I said on Twitter, it wouldn't happen if it was just me. Everybody on the field this weekend was playing unbelievable. All four guys up there with me were doing their jobs, making holes for the running backs. Running backs were finding the holes. Quarterbacks were making their reads. Wide receivers on the perimeter, they were blocking, our tight ends were blocking. It's not just a me award, the whole offense played unbelievable, but I'm definitely blessed to have it."

Full transcripts for Coach Banks' and Coach Golesh's Tuesday availability can be viewed below, along with select quotes from Tennessee players.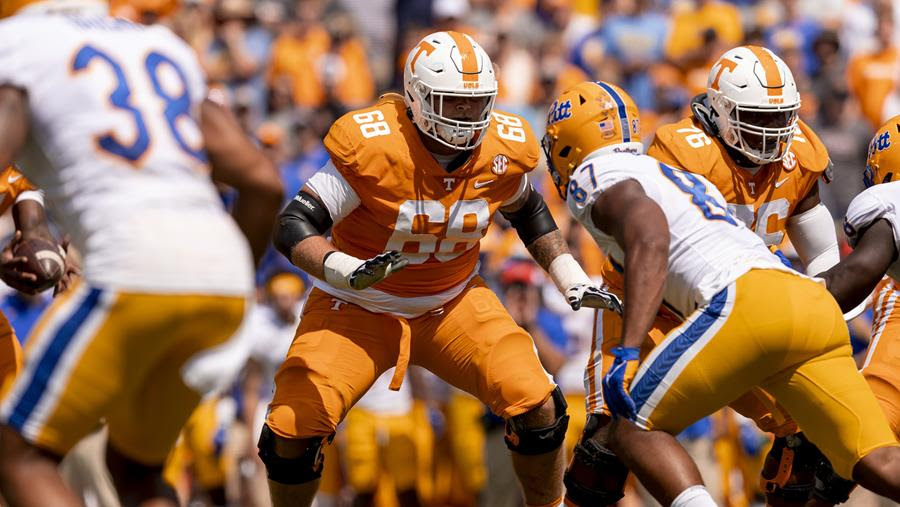 Defensive Coordinator Tim Banks
On balancing blitzes versus guys having one-on-ones…
"It's one in the same to me. Every defense that we have, there is an opportunity to win a one-on-one. Whether we're blitzing or whether we're playing our standard 4-3 or 3-4, it doesn't matter. Ultimately, that's what the game of football is. It's about winning one-on-ones. I think the balance is what (football) is. We're trying to win a one-on-one whether we're blitzing or in our base concepts."

On why he thinks his defense has been so effective against the run…
"I don't know, I didn't even know the statistics to be honest with you. We try to live game by game, quarter by quarter. At the end of the day, we feel like we are trying to play to our players strength, whatever it is. Obviously as we identify the strengths and weaknesses of each opponent, we try to put a defense or a plan together that gives us an advantage. Obviously, in this day in age, you have to be able to stop the run. But at the end of the day, to me, it's just based on that personnel and how we utilize them and give them the best chance to be successful."

On Doneiko Slaughter and Tamarion McDonald's performance versus Missouri…
"I thought they played extremely hard; they understand what the standard is, so they got their opportunity. I thought, for the most part, those guys answered the bell. We'll continue to evaluate every week. As I've said many, many times: you get what you earn. Those guys earned some opportunities and, when they got them, I thought they did a really good job taking advantage of it."

On what he has seen from Byron Young in his three games this season…
"We're excited about BY, he's a tremendous kid. He works extremely hard. Obviously, missing the first couple games set his development back. But we're pleased with the direction he's headed. I think he'll be the first one to tell you there are still some plays that he would love to have back and that he thinks he could execute better on. We think the sky is the limit as he continues to get more reps. I think he'll continue to grow and, as he grows, the better he will be."

On what growth and development he's seen from Omari Thomas…
"Big O has been battling. He is really is. He's a pleasant kid to be around, it's extremely important to him. To see him start to have some success is gratifying just because we know how hard he works. He knows there are some things he wants to get better at, but he's working at it. To me, that's all we can ask as a coach. It's our job to make sure these kids reach their full potential, whatever that is. We still feel like Big O has more potential in him, we're working extremely hard to get it out of him."

On the defense's approach on matching the offense's aggression…
"I think at the end of the day, the style of play in which we want to play on offense, defense, or special teams is just universal. We want to be aggressive in everything we do. Aggressive doesn't necessarily mean you're blitzing every snap, it's just how you go about your business. Again, whether it's our front four, whether we're in man-coverage, whether we're in cover 2; we want to be the aggressor. That's just what it is. I think you can see that on offense, defense, and our special teams."

On how he would describe the personality of the defense…
"It's tough. I think we're a tough defense. We're a defense that plays hard and shows a lot of pride. We love our kids. We're excited about them. We call them the few and the proud. I think when you look at us and what we do, we play extremely hard. At the end of the day, that's all I could ask for. As coaches, we'll do the best that we can to put them in the best positions to be successful, as long as they're working their tails off. Those guys are really working hard."

On the progress of defensive development…
"I'm going to be honest, I try not to event think that way. We try to live day by day. I wasn't sure, because I hadn't coached those guys in a game. Based on everything that we saw in the spring and everything we saw in the summer, we tried to learn from it as coaches day-to-day and then put those guys on the field to give them the best opportunity to be successful. The expectation is, again, that we play hard and that we play physical. The execution part, obviously that's on us (as coaches) to make sure we're putting them in the best positions. It's on those kids to actually digest what we're giving them, but those are unknowns. You don't know that. All we can do is adhere to our process, work our tails off and obviously the outcome and the product will speak for itself."

On coming to Tennessee knowing the extra defensive pressure due to up-tempo offense…
"No, and honestly I don't worry about things that I can't control. We worry about what we can control. If we get an opportunity to go play defense, we love that. Every chance we're out there, we live for the first down, second down, third down and fourth down. Then we're off the field. If we're back on right away or we're on the field ten plays later, it does not matter to us. We just want to have an opportunity to play football. That's the mentality we have as a staff and that's the mentality our players have."

On Aaron Beasley and Jeremy Banks …
"They're working hard. They really are. I think Coach B.J. (Brian Jean-Mary) has done a great job of continuing to develop those guys. Banks always plays hard. He has tremendous energy and tremendous passion for the game. There are obviously still some things that we're working through to make him the best version of himself that he can be. I think at the end of the day, if you have that 'want to,' we're willing as coaches. He has the 'want to.' He's getting better that way. I'll say the same thing for Beasley. Beasley's always had pretty good instincts, based on the little bit I saw of him in the spring. I think as he starts to get more comfortable with what we're doing, you'll start to see him play better."

On Matthew Butler's number of snaps…
"He's just a warrior. The way he practices every single rep really embodies what we talk about. You live and die with a one rep mentality. His one rep in practice looks exactly like his one rep on Saturdays. I think he's just trained his body and conditioned his mind to be able to go as hard as he can possibly go, for as long as he can possibly go. I know that may sound like some coach speak, but that's really truly how he practices. We don't have very many guys who practice as hard as he practices."

On the value of tackles for loss…
"I think it always plays a factor in terms of how you want to play. Obviously, if you can put him in a lot of long situations, you would think it plays into our hands. Again, I feel crazy saying it, but I don't look at it as much. We truly look at our tackle efficiency—how well we tackled. Obviously, if we're playing aggressively and playing with the mindset that we want to play with, I think the TFLs will take care of themselves. Obviously, if we're playing behind the line of scrimmage, it does speak volumes for putting us in situations to be successful in latter downs."

On his thoughts on South Carolina's offense…
"They do a really good job. They've got multiple backs who do a really good job within their scheme. I think, obviously, getting their quarterback back has kind of solidified what they want to do in terms of their passing game. They have some wide-outs who can really tear the top off the coverage. They've made big plays against everyone they've played, down the field. They have some threats and they've got two really good tight ends who are pretty physical guys and are also very adequate in the passing game. It's going to take a collective 11 to get after these guys and play hard against them."

On what the key to defensive efficiency is…
"Just understanding exactly what the situation is and understanding very clearly how many yards they need to complete a first down. We're always going to try and mix it up in terms of what we're doing, but ultimately, every single person on that defense and every single person on the field needs to know what the situation is. Is it 3rd & 5? Is it 3rd & 8? Is it 3rd & 1? Then obviously—within the framework of our defense—being able to execute. I think we've got to be very clear and very direct in terms of what the situation is and then executing accordingly."
Offensive Coordinator/Tight Ends Coach Alex Golesh
On Hendon Hooker since taking over the starting role…
"I don't know if anything has surprised me, I thought through spring and through camp there was a calm demeanor about him. There was a sense of collectedness, a sense of maturity. Good or bad, whatever happened, the response was always the same. It's exactly what you want from a player, it's what players want from us coaches: be the same guy every day. That's what Hendon is. He has really, really been efficient in how he has played. He's been able to hand the ball of when he is supposed to. He's been able to throw the ball when he is supposed to. He's given us a really good element in the run-game, in terms of him being able to run the ball. What you didn't know through spring and summer – because (the quarterbacks) are in a red jersey and you can't hit them – it how tough he is. He is a certifiable dude in terms of toughness. He runs the ball extremely hard, sometimes if you ask (Joey Halzle) he needs to be smarter in how he is finishing runs. I think, from the outside looking in, it's awesome that he is diving head-first sometimes, like a little bit chaotic there, that's your quarterback on the ground. I think he brings a spark, and the way he plays, everybody else around him sees that and they feed off of him. So, I've been really, really proud of the way he has, one, taken care of the football – that's job number one for a quarterback, take care of the football – and then, in terms of timing, ball placement, efficiency, I feel like he has been really, really sound in what he's done. I think, more than anything for us and there was a question about the tempo, it's him being comfortable snapping that football as fast as we need him to. I don't know (about) the first couple of weeks that he did that, but I felt like this last week, he did."

"Last week, we were efficient on first down so for him it was easy; he was confident getting up there. When you're running the ball efficiently and playing in 2nd & 2, 2nd & 3, it makes it easier to snap the ball and make fast decisions. I was more proud, honestly, the week before at Florida where he made really good decisions in tough third down situations. Taking care of the football, getting it to the right spots. That to me, in a hostile environment where it was chaotic and there was adversity on every single drive where you saw him kind of flash, listen, this is the game guy on every single drive. I mean, we got down in the fourth quarter and it was still the same guy on every single drive. When you know what you're going to get from your quarterback, it makes it really, really simple in terms of: you know he's going to execute the play to the best of his ability and it's going to go to the right spot which makes it really simple from our end."

On the coaching staff dialing in on an identity that fits the team's personnel…
"I think through camp for us, we had a bunch of guys banged up on and off—(Velus Jones Jr.) being one of them—and you just couldn't place them. You had new guys in (Joe Milton III) and JaVonta Payton that you were trying to figure out what they were, who they were. You had Jalin Hyatt, who was banged up the entire spring. You had Tiyon Evans, who was banged up the entire spring. And so, you were trying to feel those guys out. Yes, it took us a minute to get to who are really our best 11 (are), then who's 12, then who's 13, and who's 14, and who are our package guys. Who are guys you can go to with certain things, both in the run game and pass game. I think in any evolution of a program, of an offense, you figure out who those pieces are, who you need to keep involved, who needs to keep growing and needs more time to keep evolving and developing. I feel like we're closer to honing in on it. I feel like we're playing—this last week, the week prior, primarily this last week—we're playing with who we think gives us the best chance to win, and we have a good feel for who their backups are and what those roles are for those guys starting to evolve. I think it's hard when you start getting guys banged up, and now guys have to fill in. You're kind of shuffling pieces, O-line being one of them, where you're trying to figure out who really that sixth guy is. To be honest with you, a lot of the time, you don't find out until you're in the thick of the storm and you see how guys respond, and how guys react to adverse situations. And yet, it's taken us some time to figure it out. I feel like we're close to figuring it out, and we need to be because right now we're right in the thick of it. We're in conference play, and we've got to be at our best obviously (on) Saturdays. As injuries happen, we've got to adjust, but I feel like we're getting really close to figuring out who we can really count on offensively.

On the buy-in from players coming off a 62-point performance…
"It's obviously easier when there's a result that can sign off on what you've been preaching. Me personally, I have preached nothing but our process of how we get there. If you're result-driven, especially (when) you're building a program virtually from scratch with a slimmed down roster—and those are all excuses, and we can talk about it and write about it. We have who we have, and we have to teach in a lot of ways, a lot of young guys at a bunch of different spots, we have to teach them what the process looks like to win. What a winner's process looks like. The result of it, the end result, you can't control. All we can control is our process about how we go (about) our daily business. How we wake up, how we go to breakfast, how we get treatment, how we watch film, how we show up at practice, the energy level we bring, our attitude, our effort, how after practice we go to treatment, we go to study table, when we go to sleep, how many hours of sleep we get. All of those things that you're teaching, specifically guys that have not played college football at this level. We've preached so much process-driven things, where the result will take care of itself.

"Saturday, everybody is writing that we're this running football team that's executing at a high clip. The Saturday before, we scored 14 points. If you are result driven, it's going to be up and down every week, especially with a young team, especially with a bunch of guys that haven't played. So, for us it is all about process and all about how you go about your daily business. What happens on Saturday at noon has nothing to do with what plays we call, what their defense is, it has everything to do with the leadup to it. Again, I know I sound like I'm preaching and I'm really not, that is literally how we go about our daily business and the end result is the end result. The defense presented us with the ability to run the football (and) we ran the football on Saturday. Whatever the defense presents us, we're going to do our very best to attack their weakness.

"In terms of how we preach and having to sell what we're doing, the guys have bought in because the ones that didn't buy in are not here. And there's still a couple young guys that have no idea how they fit figuring it all out and our job as coaches is to get those guys in the fray and buy in and find roles for them. For some of them that may be redshirting, for some of them that may be scout team, but for us to have to validate what you're doing to the guys – how you treat them, how you talk to them, how you coach them, how you love them every day – that's where the buy in comes from. The end result, if you live on end results all day, you're going to have gray hair. You can't live on the end result. The end result takes care of itself. In elite programs, the process is right. From January 28 to today, all we've cared about is our process of how we prepare, because if you prepare like a winner, you win, generally. If you prepare like a loser, you lose. So, that's been our mantra or whatever. I'm not a slogan guy, but that's been our call to them is, how do we get them to perfect their process in everything we do? We are nowhere near where we should be yet."

On what Jimmy Calloway and Jalin Hyatt need to do to be more productive…
"They got to get their process right. Those guys are both young guys. They both have a bunch of talent. They both have a bunch of ability. Jalin Hyatt has gotten closer to getting his process right to prepare. He's still learning how to play within the offense. I'm absolutely not down on Jalin Hyatt. He's still learning how to play. He's an electric player, he's really fast. We got to continue to find ways to get him the football and I think he's going to continue to grow and have a really bright future here. He's still young in so many different ways.

"Jimmy Calloway has to continue to learn – again this is his second year playing receiver, this is his second year in college – he's still figuring it all out. Kodi (Burns) has done a really good job of helping him there. I feel like we're all hands-on deck with Jimmy Calloway trying to help him continue to perfect his process. Again, has nothing to do with Saturday, you guys see the result of what his daily process looks like. He's got to continue to grow up and perfect that part of it. There's a ton of talent in there. He's going to be a really electric player here at some point as well."

On the pros and cons of a shotgun formation as opposed to being under center in short-yardage situations…
"When he's (the quarterback) in the shotgun, you have the ability to read one side or the other in terms of whether you want to throw the football, whether you want to run the football, whether you want the quarterback to keep the football and run it himself. When you're under center, you're pre-determining whether you're going to throw the football or hand the football off."
Player Quotes
Matthew Butler – DL – Senior

On his work ethic at practice…
"That's really always been my M.O., that's been like my thing. The difference is, like now, I'm going hard and doing things right. When I first got here, I was just kind of out there, you know what I mean? But now it's like you get great coaching, you understand the concepts of the defense, you go out there and play hard and good things always happen."

On focusing on the process over the result…
"When you go into something you always think about the result. Oh, we're going into a game we want to win. Oh, I'm going into practice I want to excel. Oh, I'm going into this meal I want to be full, whatever the case may be. But when you can break it down into the process and then simplify that in your mind. Like for me, go out there I'm going to stay vertical, I'm going to take good steps, I'm going to use my hands, I'm going to flip my hips rather than saying I'm going to have a good practice."

On if name, image, likeness is a distraction…
"I don't think that it's a distraction. We just joke around about it, like, 'hey what they got you doing? Oh, they definitely paid you to say that.' You know what I'm saying? Something like that. It's all kicks and giggles, but obviously, very nice to see your teammates who, some of them really come from some situations, and some of them, including myself, are living in situations. So, you make things happen and it's really a blessing to be able to just make things happen on this level. I'm thankful for it, I'm sure my teammates are thankful for it. Then it's added motivation. If I ball out my name gets out there, I have an opportunity to use my name, image, likeness."

Cade Mays – OL – Senior

On settling in at one position consistently…
"It's been kind of a breath of fresh air because all my years of college – one week I'm playing this position, the next week I'm playing this one, halfway through this game I have to switch over here – it's been cool to focus on my craft in one aspect of the game and just keep improving every week and watching different people how they play it. I've only been playing it (right tackle) since fall camp, haven't been playing it very long but just trying to get better every day. Take a step every day and every week, just break down the film, seeing things I can do better."

On being named SEC Offensive Lineman of the Week…
"It was just huge, but we got a new week this week. I was very blessed to have that honor, but like I said on Twitter, it wouldn't happen if it was just me. Everybody on the field this weekend was playing unbelievable. All four guys up there with me were doing their jobs, making holes for the running backs. Running backs were finding the holes. Quarterbacks were making their reads. Wide receivers on the perimeter, they were blocking, our tight ends were blocking. It's not just a me award, the whole offense played unbelievable, but I'm definitely blessed to have it."

On what he sees in South Carolina…
"They got a really good front seven, from what I've seen. They've played some good teams this year, so they've definitely been battle tested. They got a lot of old guys on defense, lot of guys that have played a lot of ball. They're pretty physical up front, fast, really good technically with their hands."

Omari Thomas – DL – Sophomore

On his improvement from spring ball to now:
"I think it would be a big change. Honestly, I think just from me being pushed and then me executing what coach (Rodney) Garner wants and just me doing it, I think would be a big change if you were just to look at the spring film to our practice today. I think it would be a change on just the tempo, the level of play, how I am shooting my hands, how I am playing vertical and things like that. It all goes back to coach Garner always on me about it and wanting the best for me."

On what is important for the defense to be successful…
"I would just say it is just the small things, focusing on the little details and playing vertical. It's all about playing vertical, getting that knock back and then once you do that it allows you to make plays. That allows the linebackers to make plays and everybody is just looking good right now and we just got to keep improving as a defense."

On getting off the field then having to go back on after the offense scores quickly…
"It's a good feeling. Even though you might have just come off the field, that's what we have guys for that rotate in and rotate out. Everybody plays, everybody does their job when they get in there and it's all about being ready when your time comes. But we love to see the offense putting up points. It's fun."

On making his first career start against Missouri…
"I would say it was just more calm, just being focused and locked in. Every week we go by and say just be locked in, even if you're not getting the reps, you still have to take the mental reps. Everybody knows those mental reps actually help because when it's your time to be called you never know when it's going to be your time, you just have to go in, be locked in and be ready to perform. You just have to perform at a high level, and I think that's what we're going to do. I think that is what the D-line is doing right now and we just have to keep improving."

Cedric Tillman – WR – R-Junior

On what Hendon Hooker has done to play so well…
"I think Hendon has done a great job. I think you can see each game he has played in he has gotten more comfortable with the offense and has gotten more comfortable with the receivers and everybody else on the offense. I just think he has done a good job passing the ball and kind of running the ball, too. He's a leader so we are just following his lead and hopefully he continues to do good."

On having Velus Jones Jr. in the slot and how that helps the offense…
"Velus is a great player, very diverse. You can put him outside in the slot, kick return, punt return, just a ball player. Definitely giving someone like him the ball creates opportunities for everybody else, so I think him on the field helps the offense out a lot."

On being back on front of the home fans this Saturday…
"We're really excited, first SEC game this year in Neyland, you know it's going to be crazy. I already know, so we are excited about it. The last two weeks we have kind of been in away games and it hasn't really been the same atmosphere wise, but we are looking forward to playing in front of the fans and putting on a show."

On the mentality for offense as compared to a year ago…
"Just the approach of the offense is next play mentality, which is something I think we struggled with last year. We probably had one good play and kind of got stuck on it. Coach (Heupel) tells us no matter what happens, even if we make a good play, get up and get the ball to the ref and keep going. Everything is going so fast we don't have time to kind of just focus on the previous play. I just feel like this offense has a lot of confidence, whether things are going good or bad I feel like we all just believe in each other, and I think if we continue to believe in each other, it's only going to get better."
-UT Athletics