KNOXVILLE, Tenn. — The Tennessee football team took Haslam Field Tuesday morning in preparation for its next interdivisional SEC challenge at No. 4 Alabama. UT travels to Tuscaloosa Saturday night for the 104th meeting between the Volunteers and the Crimson Tide, set for a 7 p.m. kickoff on ESPN.

Assistant coaches Jerry Mack (running backs), Willie Martinez (secondary) and select UT players met with members of the media after Tuesday's practice to preview the upcoming matchup.

"They're just consistent, efficient," Martinez said. "Obviously, they've been doing that for a long time. The consistency and being able to sustain it is a credit to them. Obviously, we're looking forward to the challenge. It's a very talented football team."

Tennessee's defense has put up impressive numbers through the first seven weeks of the season and will look to continue those trends against the Tide. The Vols have racked up 62.0 tackles for loss, a tally that leads all Power Five teams and ranks second in the FBS. UT has forced 10 turnovers in the last five weeks and picked off eight interceptions, which ranks third in the SEC and 13th in the FBS.

The Volunteer defensive unit will face another strong test Saturday night against the league's top scoring offense, as Alabama leads the SEC at 45.0 points per game. Crimson Tide freshman Bryce Young tops the SEC with 24 passing touchdowns and is the highest rated quarterback in the league (180.0), narrowly edging UT senior signal caller Hendon Hooker (179.8).

Martinez praised his secondary's effort and energy through the first four weeks of SEC play and has called upon his group to focus on playing smarter as UT gears up for the impending stretch run.

"For the most part, I think these guys have been playing really hard," Martinez said. "They have been playing physical. The energy's been there. They've continued to progress in the knowledge of our scheme and preparing. I think they've done a really great job with that. I think the thing we could always do better is play smarter. We've got to be able to sustain it throughout the whole game—making good decisions and solving problems as we go."

Offensively, the Vols will look to keep the ground game operating at a high clip against Alabama's stout rushing defense. The Big Orange enters the weekend putting up 249.1 rushing yards per game (third in the SEC), while the Tide surrenders just 90.3 rush yards per contest (second in the SEC).

Five Tennessee running backs have seen action throughout the 2021 campaign, with Tiyon Evans (486) and Jabari Small (324) pacing the group in rushing yardage this season. When the duo has had to miss time due to injury, the Vols have seen significant contributions from freshmen Len'Neth Whitehead and Jaylen Wright as well as senior walk-on Marcus Pierce Jr.

"I think the room has been doing a really good job of next man up mentality," Mack said of his RB corps. "You saw Len'Neth Whitehead get his opportunities. You've seen Jaylen Wright get some opportunities in the past. Everybody just has to be ready to play. You never know when an opportunity is going to present itself. So, we try to prepare the room, all of those guys … We were a little short with one man down last week. So, we had more stress on the room and they handled it well, to be honest with you. If Jabari (Small) had not been able to finish that game, I had no doubt that some of those other guys would've been able to carry the load."

Full transcript for Martinez's and Mack's media availabilities can be seen below, along with select quotes from senior defensive back Theo Jackson, redshirt senior wide receiver Velus Jones Jr. and junior defensive end Byron Young.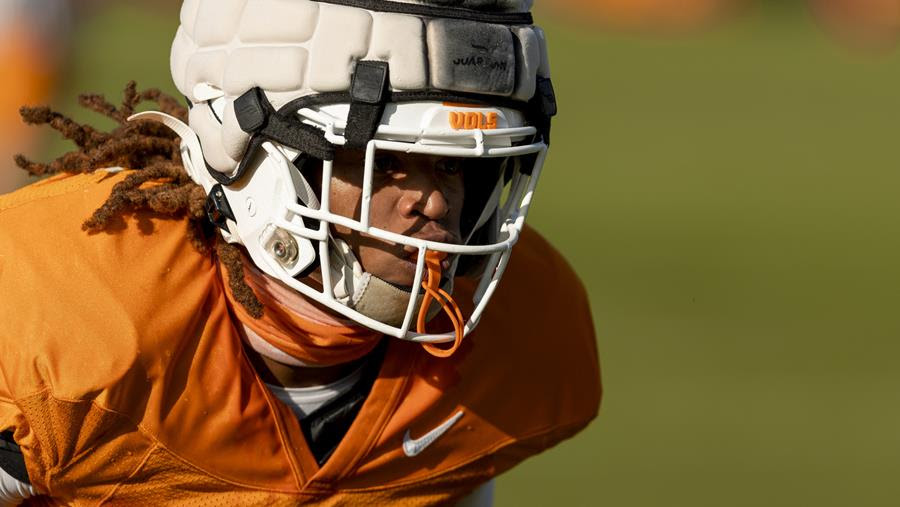 Assistant Coach Jerry Mack (Running Backs) – 10/19/21
On Jabari Small's performance Saturday…
"We're really impressed with the way Jabari went out there and competed. One thing that you saw that Jabari did, was that he played more snaps this game than he probably has in his entire career in one game. That's just a testament to his toughness and that warrior mindset. Actually, he performed well, as well. Protection wise, he did some really good things for us holding up. I was really impressed with the way he ran when he had to bounce plays. You saw him get to the second level and really make some defenders miss. You saw that short area quickness that I always talk about really come to life in that game."

On how he would assess how the running backs have done in pass protection…
"Like any team, we can always get better. Right now, we're still learning exactly what to do in those matchups sometimes. It kind of catches at times, but when to stay high on defenders, when to stay low on defenders, all those different things. We're still growing in that aspect of our protections, but overall, probably about B-minus I would say right now, but definitely room for improvement."

On if the pass protection has been steady or grown over the season…
"I think we have gotten better since the preseason, but obviously the numbers reflect that we have to do a much better all parts involved: offensive line, running backs, obviously everybody is involved in that protection piece in some aspect."

On the type of player Alabama LB Henry To'oTo'o is…
"He's a little bit of everything. When you watch Henry on film, he's very active. He does a really good job in space, wrapping up, and making tackles. You don't see a lot of people get pad plus two. When he touches you, you usually go down immediately. That one of the things that I've seen a whole lot of him. As far as a blitzer, he does a really good of bull rushing guys and pushing them back, pressing the pocket, and pushing them back into the quarterback. That's one of the things we keep noticing and watching on film from him. Really impressed with his style of play. We're probably not going to face two better linebackers in the country the entire year. Those two guys (To'oTo'o and Will Anderson Jr.) are really doing a great job."

On adjusting the running back rotation due to injuries…
"I think the room has been doing a really good job of next man up mentality. You saw Len'Neth Whitehead get his opportunities. You've seen Jaylen Wright get some opportunities in the past. Everybody just has to be ready to play. You never know when an opportunity is going to present itself. So, we try to prepare the room, all of those guys, we usually travel about five running backs. We were a little short with one man down last week. So, we had more stress on the room and they handled it well, to be honest with you. If Jabari (Small) had not been able to finish that game, I had no doubt that some of those other guys would've been able to carry the load."

On Len'Neth Whitehead's development over the last few weeks…
"I think it's more about just time on task. The opportunities for him to get more reps in practice. The opportunities for him to get more reps in the game. You can see he's steadily getting better every time he gets the chance to touch the ball. He had a run the other day, if he picks his knees up in the run, he's probably got a chance to make an explosive play. So, the more reps and the more time on task he's able to get, the more opportunities he's able to get, he's another guy that we feel like the ceiling is really high for him."

On what he likes from Len'Neth Whitehead now and what the next step for him is…
"I think to understand his size. He's a big guy. 6'2, 220-something pounds. He's a guy that when he runs with low pad level, he surprises himself with the opportunity and the chance he has to run through tackles, especially those arm tackles. So, I would like to see him get more powerful and become more aggressive as a runner."

On where Jaylen Wright is with his development…
"I think he's right where he needs to be right now. Every day, he seems to get a little bit better, from a standpoint of health wise. He was battling some nicks and bruises and things like that. He's coming along right now. He's kind of like a lot of these guys, day-to-day for right now. I do think, once he gets 100 percent or whatever 100 percent looks like now within this part of the season, I think he'll be ready to rock and roll."

On if he's had a running back play nearly 80 snaps in a game and what it says about Jabari Small after doing that on Saturday…
"I haven't really. Not in this style of tempo, that's not the expectation. You usually don't get that high of a number for the running back position. That's why I said, just the way he battled through; he was in pain. We talk about (with) those guys; this is a man's game. There is going to be opportunities, there's going to be chances for you to showcase your toughness and that game Saturday was an opportunity for him to showcase his toughness. Usually, you don't want backs playing that many snaps, but he did that and did not miss a beat."

On opponent injuries slowing down the tempo of the offense…
"I really don't (have a thought on it). That's what the offseason is for. The rules committee, they'll figure out something, as far as how to progress and how to kind of fix that problem as much as possible."

Assistant Coach Willie Martinez (Secondary) – 10/19/21
On the versatility of defensive backs being due to necessity or determining fit in the defense…
"I think it's both things. From the get-go, most of the places I've been at—especially in the latter of my career here—it gives you an opportunity to train guys. You want to have guys that are athletic enough to play all of the positions on the back end, because you don't want to have any weaknesses. You don't want to be a guy that can only play the strong safety and can't cover that well. So, we've recruited that way. We wanted guys that can play all of them. When I say all of them, that's both corner positions, the star, dime and both safety positions. We've been doing that since we've been here. There have been a handful of guys—five to seven guys—that we feel comfortable in moving around and training them. Since spring ball, we've done that. It allows us—when somebody does go down—it's not the guy that was backing him up. It's really the next best player, the next guy that's most prepared to get the opportunity. That's happened to us now in the last couple of weeks."

On what led to Kamal Hadden making his debut Saturday and the assessment of his performance…
"He's just been working and preparing. Kamal's no different than Brandon Turnage. Brandon has been working—talking about a couple of weeks ago when Theo (Jackson) was down—he goes in there and obviously has a great game and gets named SEC Defensive Player of the Week. It's been a work in progress. They've been working at it. Kamal's the same way. He had some setbacks with some injuries, which didn't allow him to get the reps he needed, the quality reps in practice. We had high hopes from the beginning on both of those guys and all of them, really. Like we always say, next-man mentality. Given the opportunity, he had been working and did a nice job when he went in there. Quality reps, which are very important, especially in this league."

On something the secondary has done well and something they can improve on…
"For the most part, I think these guys have been playing really hard. They have been playing physical. The energy's been there. They've continued to progress in the knowledge of our scheme and preparing. I think they've done a really great job with that. I think the thing we could always do better is play smarter. We've got to be able to sustain it throughout the whole game—making good decisions and solving problems as we go. You've got to be able to do that in the back end. How you practice it: you're going to rely on your rules. What's your assignment? What's the base rules? But, there are going to be some adjustments here based off of splits and situation. I think we could be a lot smarter, consistently throughout the game."

On what the defense did well to cause problems for Ole Miss QB Matt Corral Saturday…
"I just think we played really hard. I think as a unit, we played really hard. We were physical. We knew that he was a talented individual. He was going to make plays off-schedule with his feet, which he did. Limit the explosive plays would be the first thing. Obviously, with a great player like him and the receivers that they have, we didn't do it quite throughout the entire game.

"They made some plays and they're going to make plays. I said earlier … we've just got to play smarter. We're going to be facing Bryce Young, another great player at quarterback. Any time the guy who's got the ball in his hands on every snap is really good like these guys, you've got to be on top of your game from a standpoint of understanding the situation, and then obviously making good decisions based on our scheme."

On the next step for Brandon Turnage…
"Here's the thing. He's continuing to grow, learn in our system and get better each day. He's got a great attitude. He understands that the guy he just replaced in one of the games has been playing the best in the back end, in Theo. We can also move him around. He's been trained at corner, so he'll play some there. He'll play some at star. He'll play some at dime. We'll continue to play him. He's earned that."

On Brandon Turnage's performance vs. South Carolina and if Theo Jackson helping coach him up is a credit to Jackson or the culture within the program…
"I think it's both. It starts obviously with Coach (Josh) Heupel and what he's brought here as a staff. We've been saying it from day one. It's about holding ourselves accountable, but also at the same time taking ownership of each other. Be accountable for everything you do. That includes myself and them. They've done that since we've been here. Theo is obviously a great leader. He's someone who's had a tremendous amount of experience since he's been here. He's been the most consistent player since day one, since we've gotten here. I've known him prior from the last time I was here, so I had some kind of inside information on him as far as what kind of player he was and what kind of person he was. I'm not surprised. We tell the guys that if you're not in, you should be coaching. That's how we do it every day in the reps on the practice field. If you're on the second group, you're watching what the first group is doing and making sure that everybody knows what they're supposed to be doing. Theo knew he wasn't going to play. He took it upon himself, just like he does every day in practice. Even when he's playing, he's coaching. That's the kind of culture that we want and I can see a lot of it because it's spreading in the defensive back group. You can see it on the team too. The communication is a lot better than it was day one, as it should be. I think everybody's pulling for each other. They're playing for each other and that's really what you want. It was great to see that because Brandon embraced it. He's doing the reverse order too. If he's not in there, he's doing the same thing too."

On his assessment of cornerbacks Alontae Taylor and Warren Burrell…
"Everybody can see when someone makes a mistake, especially when you're dealing with space. They've been playing well. They've been playing solid. Have they played perfect? No. Have they made mistakes? Absolutely, but you correct them and you move forward. They've made a lot of good plays, too. Plays that you don't see, whether that's leveraging the football when someone else is making a play. The sack that we got for the safety, that was the perimeter. That was guys back there in good coverage. There was really good eye discipline on the play, and Corral didn't see it so he knew it wasn't there. He tries to pull back up, tries to make another play, and the ball's out. Obviously, we got a safety that time, because it was called a penalty (for intentional grounding). There's a lot of things that you don't see because it's not a stat. We can be better as a group. We say it all the time as coaches, you're not going to play a perfect game. If you had to do the game all over again, obviously the result would be different. If you said we all like that next play, let's repeat that play, you're always good on the second time around. You've got to do it the first time, so you've got to prepare and just show more consistency from the whole group. They've had some great plays, too."

On Alabama QB Bryce Young's preference to throw on the run…
"That's accurate, but he's also good with his feet. He makes really good decisions, just like (Ole Miss QB Matt Corral). He knows he's got great players around him. He knows what to do with the ball. I'm not going to say that he's looking to run every single time that it's not there, but he does a good job of throwing the ball away and doesn't take a sack. And he makes good decisions too, to run with it when he has to get the first down or keep the chains moving."

On what stands out about Alabama's offense…
"They're just consistent, efficient. Obviously, they've been doing that for a long time. The consistency and being able to sustain it is a credit to them. Obviously, we're looking forward to the challenge. It's a very talented football team."

On countering a complex offense with a simplistic defense…
"We have enough defense to keep it where you're changing up stuff. It's just really a matter of communication. Make sure that it's tight, it's precise with our adjustments, but be multiple too from the same looks that you're presenting, you know what I mean? I don't think the game is simple at all. Even if you had a couple of calls, you still have to get lined up, know your assignment, play really hard. You've got to get up and snap and clear, and play it again the next play. Offenses are so good now. The tempo, all the teams that have different styles of how they do it. It is what it is, the rules are what they are. We've just got to continue to play the tempo that we're playing on defense. Meaning, we're playing hard, we're playing physical, but we've just got to be able to play smarter throughout the game. I think it allows the guys too, to let loose and be confident when they do make those corrections from game to game. We've done that a couple times here. We had it going for a string here—not that we played a bad ball game this last game—but again, we'd just like to finish the game. Start it and finish it like the previous two games we had."
Player Quotes – 10/19/21
Theo Jackson – DB – Senior

On gaining confidence week to week…
"Oh, we're gaining so much confidence. I mean with just film study, because this whole year, this is the most film I've seen other players watch. Like every day a different DB is hitting our phone (and saying) 'come on, let's go upstairs and watch film.' I've never really seen that, so it's kind of surprising to me but it's also encouraging to know we've kind of changed the culture here and it's just exciting to be a part of."

On the work ethic changes around the building…
"I feel like that's a credit to the leadership because we take so much heart in this team and we just try and pour our souls out to our team, just give it our all every day. I feel like the younger guys are seeing that and they're starting to do the same thing that we're doing. So, I just feel like the leadership has been a big impact on that."

On becoming a more vocal leader…
"I mean with me being the oldest, you know I've seen a lot. So, I just feel like I have to step up my game while also being there for the younger guys. With me, I'm usually like a quiet guy, but now I have to step into that leadership role of being the more vocal guy, being the guy who can lead by example while also correcting if anything's going wrong. So, I feel like that's a big part of it."

Velus Jones Jr. – WR – Redshirt Senior

On his long punt return at the end of the game…
"I knew Coach (Mike) Ekeler was going to send everybody to try to block the punt, to try to put us in a situation to come back and win the game. I saw the punter kind of rush his kick and he boomed it, so I knew when it came off his foot and the height of the ball, I knew I was going to be able to get a return. So, my mindset was to house the punt, but plan 'B' was get us in great field position to put us in a position to win the game. So, I got the ball in my hands and Ole Miss was coming down the straight line together, so I just shot to the field. I got what I could, I crossed the 50 (and) put us in a good position to win the game, so that's what happened on that."

On how his teammates kept him pumped up after the early muffed punt…
"Everybody was positive, that's what I love about this team, like my real brothers. Even the coaches, everybody encouraging. We know I muffed the punt and just hearing that from my coaches and my teammates motivated me to want to do better for my team actually got me pumped up. I always have a point to prove but after that I had a chip on my shoulder, and I was like I am definitely going to make up for that by balling out for my teammates and putting them in the best position to win the game. Just everybody encouraging me, like 'don't worry about that, that happened, we got a whole ball game ahead of us.' So that was the mindset."

On the environment at Neyland Stadium during the Ole Miss game…

"That was an experience that I never ever experienced before, even throughout recruiting, all the games that I've been to. I never been in a type of environment (like that). So much love for our fans for showing up and showing out. I'll be expecting the next home game to be the same, but there's nothing like this university. There's nothing like our fan base. They came and showed out, so that was amazing. I was shocked at the beginning of the game with all the lights and stuff like that. After that it was time to lock in but that was beautiful. I even go back and look at pictures and stuff of it. We're truly blessed to be at Tennessee playing for this program with our fan base. It's amazing."

Byron Young – DE – Junior

On getting more comfortable and seeing his progression in the defense…
"It felt really great to be back and stuff like that, I feel really comfortable right now. I feel like I'm back on camp level. I feel great."

On how challenging it was to chase around Matt Corral and how challenging will it be going against Bryce Young…
"It was pretty challenging. You know he is really a running quarterback, he can do both, so we were expecting him to pass more but you know when he got an open seam he ran it a little bit. Bryce Young is a little different, he is more of a pocket passer, so you know we are looking for the run but most times he just stays in the pocket."

On him being back at camp level…
"I feel like I just settled in. You know staring off I had two games off, I felt like kind of had me rested a little bit but now since you know I already got a few games under my belt, I feel like I'm back on that level at camp with the speed and everything. I feel like I adjust to the defense way better now."
-UT Athletics