NEW YORK – Tennessee's offensive line under the direction of coach Glen Elarbee has been named to the 2021 Joe Moore Award Midseason Honor Roll, The Foundation for Teamwork announced on Tuesday.
The award is presented to the most outstanding offensive line unit in college football since its inception in 2015.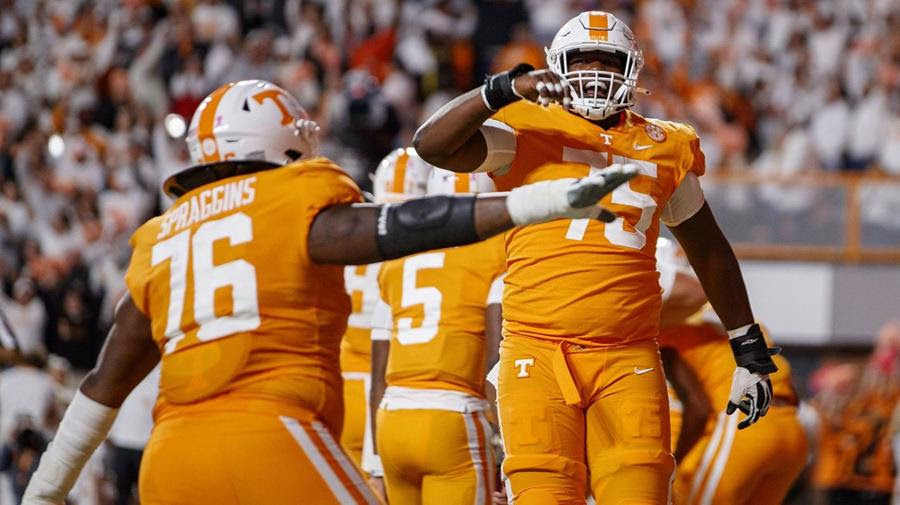 The Vols are one of 19 teams named to the midseason honor roll, joining six from the SEC. Other squads on the list include: Air Force, Alabama, Appalachian State, Arkansas, Baylor, BYU, Coastal Carolina, Florida, Georgia, Kentucky, Louisiana, Michigan, Ohio State, Oklahoma, Oregon, Oregon State, San Diego State and UCLA.
Despite a rash of injuries, Tennessee has displayed toughness in protecting an offense that is averaging 473.0 yards per game, which ranks fourth in the SEC and 16th in the nation. The Vols are the only offense in the SEC putting up more than 500 yards of total offense per game in conference-only contests.
Tennessee's offensive line has paved the way for one of the nation's top six rushing attacks as the Vols are averaging 249.1 yards per game on the ground. In its last three SEC games, Tennessee has rushed for a combined 937 yards and 10 touchdowns. They have rushed for over 200 yards in five of their seven games.
Versatile seniors Jerome Carvin and Cade Mays lead the group, along with left tackle Darnell Wright and right guard Javontez Spraggins. A host of Vols have contributed significant offensive snaps, including center Cooper Mays, guard Ollie Lane and tackle Dayne Davis.
Carvin has played 506 offensive snaps and has not allowed a sack. Cade Mays, a preseason All-SEC selection and SEC Offensive Lineman of the Week at Missouri, has not issued a sack in 369 offensive snaps. Wright has contributed 506 offensive snaps, and Spraggins has seen action on 505 plays.
Semifinalists for the Joe Moore Award will be selected on Nov. 16 with finalists chosen on Dec. 7. The winner will be made public after a surprise visit to the winning university's campus in late December. The Joe Moore Award voting committee judges solely on six criteria: toughness, effort, teamwork, consistency, technique and finishing.
"Each unit of this year's Midseason Honor Roll has earned the right to be recognized for displaying the award criteria in ways that embody the essence of our position," said Cole Cubelic, chairman of the Joe Moore Award voting committee and lead sideline analyst for the SEC Network. "As we move forward, consistency, physicality, and an ability to perform in the 'gotta have it' situations will be key, differentiating factors. We're about to enter the fun part of the season where O-line play matters most, and we're excited to see who's able to rise up down the stretch and have their 'Moore Moment'."
-UT Athletics