PDF BOX SCORE  |  HIGHLIGHTS  |  PHOTOS  |  QUOTES  |  CHANDLER ON SEC NETWORK  |  CHANDLER POSTGAME  |  NKAMHOUA POSTGAME  |  VESCOVI POSTGAME
KNOXVILLE, Tenn. – Making a program-high 17 threes, No. 18 Tennessee cruised past UT Martin in the 2021-22 season opener Tuesday night at Thompson-Boling Arena, 90-62.
Four Vols scored in double figures and UT (1-0) won its fifth straight season opener under head coach Rick Barnes.
A new-look Volunteer offense connected on 17 3-pointers, the most Tennessee has ever made in a game. The Vols attempted 40, which ranks second most in school history behind the 50 UT shot against North Carolina A&T on Nov. 27, 2007.
Kennedy Chandler was perfect from beyond the arc, hitting four threes. With 20 points, he tied for the team lead in scoring with Santiago Vescovi. Vescovi drained six jumpers, all 3-pointers.
Junior Oliver Nkamhoua registered the second double-double of his career, scoring 11 points and grabbing 14 rebounds.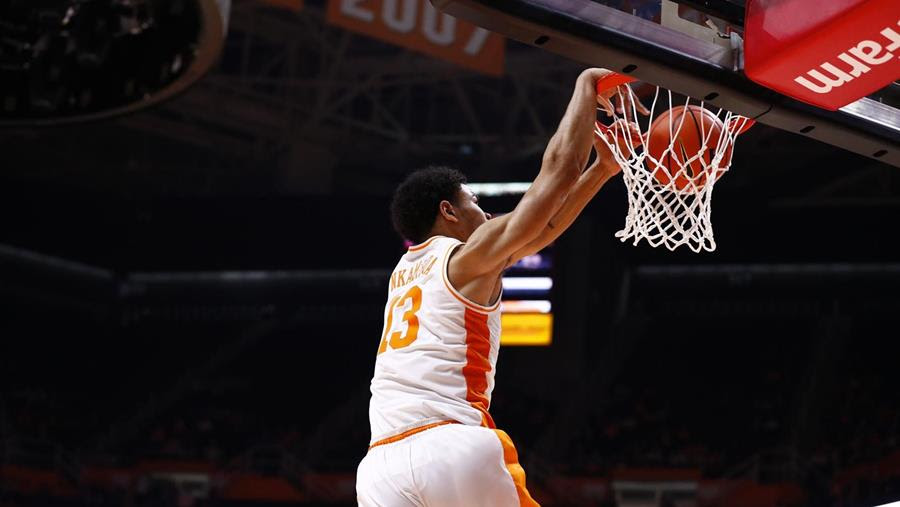 Despite the Skyhawk offense shooting 56 percent in the first half, the Volunteers took a 43-35 lead into the break. Tennessee made its impact on the offensive glass, pulling down 13 boards, which led to 18 second-chance points. UT Martin (0-1) had just one offensive rebound in the period.
The Tennessee offense found its groove in the second half, shooting 18-of-37 from the floor and 9-of-19 from three. Spreading the ball around contributed to this offensive efficiency, as eight Vols scored and 12 checked into the game.
Josiah-Jordan James had five steals, contributing to Tennessee's 12 total. The five steals were the most by an individual since Jordan Bowden took away six at Alabama on Feb. 4, 2020. Overall, the Vols forced the Skyhawks into 21 turnovers,
Five Vols made their collegiate debut (Kennedy Chandler, Quentin Diboundje, Brandon Huntley-Hatfield, Jahmai Mashack and Zakai Zeigler) while Justin Powell made his Tennessee debut after transferring from Auburn. He tallied 13 points and was the fourth Vol to score in double figures.
UP NEXT: Tennessee hosts its second consecutive in-state opponent, as ETSU comes to Thompson-Boling Arena Sunday, Nov. 14. Tip-off is set for noon ET. The game will air on SEC Network. Tickets remain available at AllVols.com.
NOTES
TENNESSEE DEBUTS: Six players made their Tennessee debuts on Tuesday—Kennedy Chandler, Brandon Huntley-Hatfield, Zakai Zeigler, Justin Powell, Jahmai Mashack and Quentin Diboundje (in order of appearance).
NKAMHOUA STARTS: Playing in his 55th game as a Vol, Olivier Nkamhoua earned his first career start during Tuesday's season-opener. Nkamhoua played 28 minutes and recorded his second career double-double with 11 points and a career-high 14 rebounds.
VESCOVI HOT FROM THE OUTSIDE:Santiago Vescovi converted on six 3-pointers—tying his career-high that was set during his Tennessee debut on Jan. 4, 2020.
IF AT FIRST YOU DON'T SUCCEED…: Backed by a 23-12 advantage on the offensive glass, Tennessee outscored UT Martin 34-7 in second-chance points.
-UT Athletics