Tennessee senior guard/forward Rae Burrell was named to three women's college basketball player of preseason watch lists, those organizations announced on Tuesday.

Burrell, a 6-foot-1 product of Las Vegas, was been named to the preseason watch lists for the Jersey Mike's Naismith Trophy, the Wade Trophy and the Wooden Award. She follows in the footsteps of former teammate Rennia Davis, who was on those lists a year ago.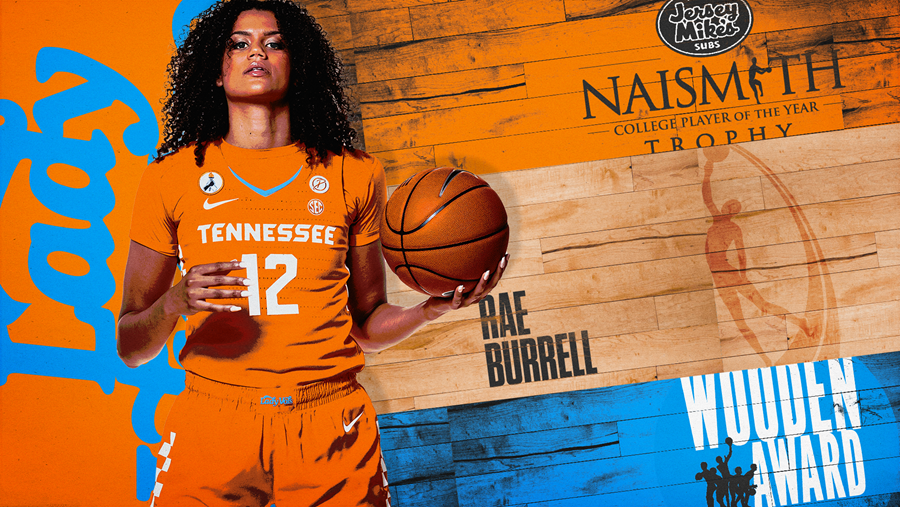 The recognition comes on the heels of Burrell earning USA TODAY Preseason Third-Team All-America and Coaches All-SEC First Team accolades and making the Cheryl Miller Award Preseason Watch List. The Lady Vol standout also was recently ranked at No. 17 by ESPN on its list of the top 25 women's collegiate players in the country for 2021-22.

An All-SEC Second Team performer in 2020-21, Burrell averaged 16.8 ppg. and 4.6 rpg. and hit double figures in 22 of 25 contests. She shot 45.8 percent on field goals, 40.2 on three-pointers and 82.5 percent from the free-throw line, all easily career bests. The graduate of Liberty High School fired in 15 or more points 17 times and hit 20+ on seven occasions, leading UT in the first two categories and ranking second in the third a year ago.

Burrell is the fifth-best returning scorer in the SEC and is No. 1 in free throw percentage, No. 2 in three-point field goal percentage and No. 7 in field goal percentage. Her 861 career points leave her 139 away from becoming the 47th Lady Vol to score 1,000 points during her time on Rocky Top.
Rae Burrell Bio | Wade Trophy Watch List | Wooden Award Watch List | Jersey Mike's Naismith Trophy Watch List
-UT Athletics