Tennessee's football team returned to Haslam Field for Tuesday practice in preparation for a SEC East showdown with No. 1 Georgia Georgia at 3:30 p.m. ET Saturday.

There is a lot of buildup to the contest as SEC Nation comes to Rocky Top. Georgia is the first No. 1 team to travel to Knoxville since 2018. Tennessee's side is ready for the task at hand.

"We get that they play good team ball, but we play good team ball too," defensive leader Theo Jackson said. "They put their pants on the same way we do. They put their shoulder pads on the same way we do. We're going to work hard this week and go into the game the same we have gone into every game, expecting to win."

The offense did not feel sluggish after the bye week against Kentucky and Georgia's defense presents a tall task as the Bulldogs sit atop the SEC statistical leaders in nine defensive categories. Wide receivers coach Kodi Burns feels the team is making strides in preparing for the opponent, and if they play their game and execute, the success will continue.

"We've got to be on point," Burns said. "We can't have any self-inflicted wounds. If we go out and execute, that is all you ask, to go out give yourself a chance to win the game. I think our players are focused. They're locked in, and we are ready for the challenge at hand. It is going to be a fun battle. I can't wait to get out there on Saturday to see what our guys can do."

The battle up front between UT's front-seven and the offensive line will be a battle to watch as Tennessee has posted strong tackle for loss numbers all season. On the other side Georgia is second in the nation in fewest sacks allowed (5.0). Linebackers coach Brian Jean-Mary discussed what his team can do to continue its success against a formidable opposing side.

"Their personnel is outstanding," he said. "Their running backs are another group that's probably one of the best in the conference. A lot of their guys that they have, when they make contact in the back field, they're always able to extend or at least get it to a zero-yard gain where they're not getting the tackles for loss. And then, you have to give their quarterbacks credit, one, checking out of plays, and two, not taking sacks. (Stetson Bennett IV) is pretty athletic, gets out of the pocket and does some good things with his feet. (JT Daniels) does a good job of kind of getting them out of bad situations and checking the plays when they get positive yards."

Limited tickets remain on sale at AllVols.com.

Video of coach Burns and Jean-Mary's press conferences can be found below along with a transcript and select quotes from student-athletes Theo Jackson and Matthew Butler.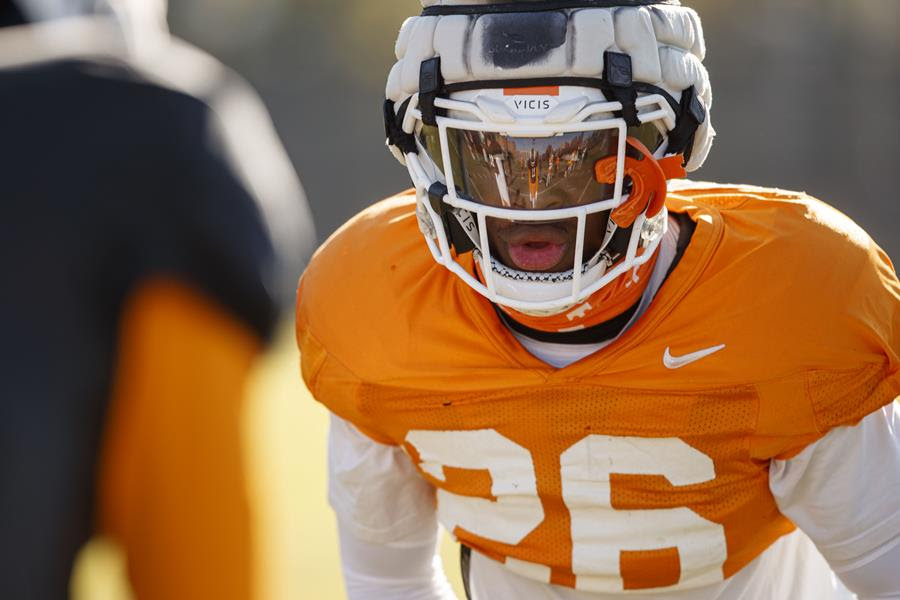 Kodi Burns – Wide Receivers Coach
On JaVonta Payton's success early in games…
"I'm trying to find ways to get JaVonta out in space. This past game was a screen, and he took it to the house. He's an explosive player. When you throw it to him down the field, he's got the speed to go down the field to make a play. He's one of those guys that is a big play waiting to happen and that is what is really what's showing up the last five to six weeks."

On Cedric Tillman's improvement over the year and if he has had a player show the same progress…
"I've had one or two players that have had some progress like that really after one year. You just talk to the development of Tillman, a guy that has been here for three years. He just lacked confidence and had the skill set but just needed to be developed. That's what he's done, he's bought into what we're doing, he's bought into my coaching. I really enjoy coaching him every day because he just wants to get better. He's always looking for ways to improve and it is showing up on the field. I truly believe he is one of the better receivers in the SEC. He is going to continue to progress and is going to be a really good player when it is all said and done."

On if there could be more for Tillman…
"I think Cedric Tillman is just really scratching the surface, just still truly an inexperienced player. He had eight catches in three years, was kind of overlooked, overshadowed a little bit by some other guys. He didn't have the opportunity that he has now, and he has really taken full advantage of it and it has been impressive to see him go out there each week and continue to develop and get more confidence each and every week. Like I said, I think he is becoming one of the better receivers in this league. He just scratched the surface. I think he can be as good as he wants to be as long as he continued to progress, buying into what we are doing, which he has. I think he's going to be a really good player."

On the transfer portal and the successes players had coming out of it to UT…
"For sure. I think offensively, just what we do with the receiver position as far as how fast we play and how we throw the ball around, and the success we have had with transfers. The portal is just wide open and if I am a receiver in the portal and you got an opportunity to come to Tennessee, why not? Like you talked about, the number speaks for itself, and the guys that are playing both transferred in, one from Mississippi State (JaVonta Payton) and one from USC (Velus Jones Jr.). We have been very successful here in just year one with transfers."

On assessing Jimmy Holiday and Jimmy Calloway…
"Both are still young players. They continue to develop every single day in practice. I spoke on it a few weeks ago, just a unique deal where you have the COVID year. They are really still freshmen because that COVID year was a different deal for everybody and this is the first year they had a chance to get some development, had a chance to play in a normal season. Being able to take those guys on road games, being able to play special teams is what I think is critical because you want all your players to be able to play special teams. That grows them as players and gives them confidence that when they go out on the field they know how to play, they know how to execute. I am excited to see their growth and development, very similar to (Cedric) Tillman and a lot of these guys that are playing this year. I mean you look at a guy like JaVonta Payton, look at his history. It had not been very successful at the other places that he has been, but he comes here to Tennessee and right now he is one of the better receivers on the team. It just speaks to development and those guys just continuing to buy in and I think they will be good players when it is all said and done."

On what Georgia's defense is doing well…
"I mean there is not a whole lot that they don't do good. They are good at stopping the run and whenever you stop the run it's a lot easier to defend the pass. What they are doing and the caliber of players they have, and the level they play at is really impressive. That can be said about everybody though, obviously once you play Tennessee, the threat of explosive plays is kind of what we do. It's obviously a really good matchup and it's going to be fun to see how we match up against, if not the best defense, one of the best defenses in the country."

On getting running backs involved in the pass game and working with running backs on pass catching…
"Obviously, you would love for everyone to get involved in the pass game, not just the wide outs. You want the tight ends, you want the running backs to all be involved, and that makes the job for the quarterback a lot easier. The running backs have the routine, Coach (Jerry) Mack does a good job of developing those guys as far as pass catchers out of the back field. It's all about opportunity. Once the opportunity presents itself to get those guys the ball, I think they are in a good position to make those plays. Coach Mack does work with those guys on pass catching."

On speed of play giving the players a mental edge…
"I think it definitely gives you a mental edge, but more so that there's at any point throughout the course of a game we can catch fire just like this. Coach Heup (Josh Heupel) says it all the time, it doesn't matter in the first quarter, second quarter, third quarter, at some point it is going to pop and the last couple weeks it's transpired that it's popped in the first quarter, but with this caliber (and) style of offense we are liable to put up 14, 21 points in two or three minutes. It's obviously exciting to be a part of, you know we are still young in the offense, and so we are going to continue to grow throughout the course of the year. We got three games left, obviously one of the better defenses right now. Like you said, we've gotten off to really good starts, but we can pop at any time. We really preach to our players, 'do not look at the scoreboard. I don't care if we are down 21. I don't care if we are up 21. It can bust wide open at any time.'"

On Georgia's defense compared to some of the other great SEC defenses the last few years…
"I really think the number speaks for itself. I mean statistically one of the better defenses, really the best defense in the country, and you can compare this defense to some of the better defenses that have come through the SEC at a couple other spots. They play hard, they're well coached, got really good talent on defense and they fly around to the football. Obviously, we got to be on point, we can't have any self-inflicted wounds. If we go out and execute, that is all you ask, to go out give yourself a chance to win the game. I think our players are focused, they're locked in, and we are ready for the challenge at hand. It is going to be a fun battle. I can't wait to get out there on Saturday to see what our guys can do."
On Aaron Beasley and his performance…
"I wouldn't agree that he's struggled. I thought he didn't play up to standard in the Alabama game. Thought he probably lost a little confidence in himself. He missed some tackles we all expected him to make. Then he had the big miss in that first series versus UK, but if you go back and watch the game, he led us in tackles and he actually did a good job. Obviously, the quarterback jumping over him was a super athletic play but if you go back and watch the coaches' tape, he made a lot of tackles and fit the run pretty well after that first quarter struggle."

On the depth at the inside linebacker position behind the main three guys…
"They're progressing. We want to always keep those guys attentive, and we've given them a ton of reps. We just want to still make sure we put the guys in that give us the best opportunity to win. Like we talked about earlier, I think those guys – Aaron Willis, William Mohan and Pakk (Kwauze) Garland all have a chance to be outstanding players. Obviously, we would like to speed up the clock to get them there now, but they are progressing. I think they are nearing that point where you would feel comfortable putting them in the game but probably just not there yet. They are doing an outstanding job on specials teams and you can see them maturing there and they are getting better, but they probably still have a little ways to go where we would feel like we can put them in there and they can give us the best chance to win."

On how many linebackers they would want in that rotation…
"We started off with four early this year and obviously, I thought those guys played lights out these last couple games, really the last three. The linebackers that played have probably been on the field too much. They are up there in the 80s, high 70 play count and that's probably too much for them for the way we want them to play, so obviously the depth comes out in the fourth quarter and some of those second halves. Some of it is self-inflicted, we've got to get off the field on third downs to limit that play count."

On if the lack of depth has taken a toll on the linebackers…
"Yeah, it has, but I also say it's self-inflicted. If we're getting off the field on third down, we have an opportunity to limit some of those plays. But we also know our offense, they're a fast strike offense and obviously you guys watch the game, there were a couple plays – like the first play of the game was a touchdown – so, where we're going to be on the field. And then obviously, when you score on defense that takes a possession away from your offense and you have to go back and get another possession on defense, which we do not mind, we'll always take the points. Those are the times you wish you had a little bit more depth, but the guys are battling through. Obviously have minor injuries, knicks and bruises, but they are battling through it and giving us everything that they have."

On Georgia's offense allowing very few tackles for loss…
"Just from watching the tape, obviously their personnel is outstanding. Their running backs are another group that's probably one of the best in the conference. A lot of their guys that they have, when they make contact in the back field, they're always able to extend or at least get it to a zero-yard gain where they're not getting the tackles for loss. And then, you have to give their quarterbacks credit, one, checking out of plays, and two, not taking sacks. The Bennett kid (Stetson Bennett IV) is pretty athletic, gets out of the pocket and does some good things with his feet. The Daniels kid (JT Daniels) does a good job of kind of getting them out of bad situations and checking the plays when they get positive yards."

On the tackling overall against Kentucky…
"It can be a lot of things, but we're not going to make any excuses. We have to tackle better. They gave us a couple new formations and they were sending receivers and tight ends from out in the perimeter to come and crack some of our interior guys, but we have to be able to adjust to that and do a better job. I think in the biggening when you watched it, we didn't do a good job of matching their physicality. I thought we did that as the game went on. Some of those runs that you saw in the first quarter from those running backs you didn't see in the second half. I thought we did a really good job of matching their intensity and then passing their intensity as far as the run game. We just have to do a better job of tackling in space as a team. Like you said, that's the name of the game nowadays with football. People are going to try to get you in space and put their good athletes in space and see if you can make tackles. We didn't do a great job of that on all three levels and that's something that we've been working on this week."

On what the linebackers need to do to be better on third down…
"Just understanding down and distances. Everybody has their third down packages that they are going to run to get first downs, so it's always been stick aware, understanding how deep their drops need to be and understanding pass protections as if we want to pressure on third down, we have to be able to beat one-on-one blocks. Even when we pressure, if we pressure with five and they're blocking with five, we have a couple guys in one-on-one situations (and) we have to start winning those situations."

On what makes a good zone defender as a linebacker…
"It's spatial awareness. If you're playing zone defense, obviously it's no different than playing zone defense in basketball. You have to be able to follow the ball. In zone defense in football, it's the same. The ball is in the quarterback's hands (and) you have to be able to work within the framework of the defense, understanding how the offense is trying to attack you. If we are in a four under three deep zone coverage and they get five guys, obviously they have an advantage, so we have to do a great job of tracking the quarterback and being able to break on the ball when it's thrown."

On what is says about their defense with making four straight stops after playing 100 plays…
"I think it says it's the culture of our program. It's kind of what Coach Heupel is building. I've been doing this for a long time, and I've been on the wrong end of those games a lot of times. I think it speaks to the character of our team. The players believe in what Coach Heupel and what this staff is preaching because after that fourth down, I'm not sure many people watching thought the Vols were going to win after giving up that long fourth down. The kids battelled back. They never panicked, we called a couple pressures, and they ran them like it was the first play of the game. They found the energy and the will to go and run them. We got some pressure on (Will) Levis and that was the difference in the game. Like I said, I have been doing this for a long time and I've been on the wrong side of after you give up a big play like that, so I give them all the credit in the world."

On the linebackers blitzing and if that is something we can expect to see more of…
"If you ask them, we should blitz every play. We want to do a better job of not showing blitzes. We did that versus UK. We have to a better job of playing within the system. I always say you never want to over disguise where it takes away from your ability to get your job done, but you also don't want to tell the whole stadium you're blitzing as soon as you line up in the formation. We want to be multiple in how we blitz but when we do, we have to be more effective. It's not going to always be a wide-open run through. We're going to have to defeat an o-lineman, a tight end or a tailback that is trying to block us. So, we have to do a better job technique wise in winning those one-on-one matchups."

On how much risk was involved in bring pressure on the last few plays of the UK game…
"I think it worked both ways. After giving up that fourth down, you had one of two ways that you can go. I think our kids, that was kind of the energy boost that they needed. He (Tim Banks) told them, 'we're going to come after them.' We are not going to sit back and let (Will) Levis sit in the pocket and be comfortable in the pocket. We had the confidence that we could cover and pressure, and they had the confidence in the calls to go out there and execute it. I think after that play, we had the time out and we got together, we were all on the same page. The kids knew we had the confidence in them to get pressure, and obviously they had the confidence that when we called it they'd be able to execute it."
On the motivation of playing top-ranked Georgia…
"We don't really look at the record, we get that they play good team ball, but we play good team ball too. So, we look at them like, they put their pants on the same way we do. They put their shoulder pads on the same way we do. We're not looking at them like they're superman, we're going to work hard this week and go into the game the same we have gone into every game, expecting to win."

On how the defense can correct mistakes…
"The mistakes that we made this past game were small mistakes. So, it's really just getting in the film room and getting together so we are all on the same page."

On the mindset of the defense after getting the final stop in the fourth quarter…
"That just goes to being competitive. We all knew that we had to get a stop. We knew that we at least had to hold them to a field goal. That was really just us coming together, knowing our responsibilities, and just pitching a shutout in that last drive."

On how to find success against Georgia's passing attack…
"Really just stop their big plays. We've been watching film on them and they have some guys that can take the top off a defense. So, we just have to contain them and tackle the running backs."
On Georgia's offensive line…
"They are experienced, they have a few young guys who have some athleticism. Obviously, they are well coached and play for a historically good program and, obviously, they are going to find good coaches all around board to coach them up and everything. You know we have a game plan and we are going to go in and execute. We're going to do our thing and throw some wrinkles in there to give ourselves the upper hand."

On managing emotions from week to week…
"Yeah that's the thing about me, I'm just never hot, never cold. I think that this has been a testament of the team this year. But we can go in with that mindset of 'we need to be us and then just be a better version of us' and the mindset doesn't even change. We don't have to do anything special, just do the ordinary things at a very high level, consistently."

On what contributed to a tough game in run defense…
"It was really just not tackling well. It wasn't like the defense, it wasn't not being physical at the point of attack, we just didn't tackle well."
-UT Athletics