KNOXVILLE, Tenn. – The 18th-ranked Tennessee men's basketball team returns to action Sunday, taking on in-state foe ETSU at 12 p.m. ET inside Thompson-Boling Arena.
Fans can catch Sunday's game on SEC Network and online or on any mobile device through WatchESPN. WatchESPN can be accessed through the ESPN App, or online at espn.com/watch. Roy Philpott (play-by-play) and Mark Wise (analysis) will have the call.

Fans can also listen live on their local Vol Network affiliate to hear Bob Kesling and Bert Bertelkamp calling the action. The broadcast is also available on SiriusXM channel 191 or channel 962 on the SiriusXM app.

In its season-opener on Tuesday, Tennessee defeated UT Martin, 90-62. Junior guard Santiago Vescovi and freshman guard Kennedy Chandler led the Vols in scoring with 20 points apiece—Vescovi made a career-high-tying six 3-pointers, while Chandler was a perfect 4-for-4 from behind the arc. Making his first career start, junior forward Olivier Nkamhoua also had a standout performance—registered his second career double-double with 11 points and 14 rebounds.

Sunday's matchup marks the 19th all-time meeting between the Vols and Buccaneers, however the teams have not since 2016. Tennessee holds a 16-2 record in the series, having won the last 10 meetings.

Up next, the Vols head to Mohegan Sun Resort in Uncasville, Connecticut, for the 2021 Basketball Hall of Fame Tip-Off. On Saturday, in its first game of the weekend, Tennessee is set to take on No. 4 Villanova at 1 p.m. ET (ESPN News). On Sunday, the Vols will face either No. 7 Purdue or No. 19 North Carolina depending on the results of Saturday's games.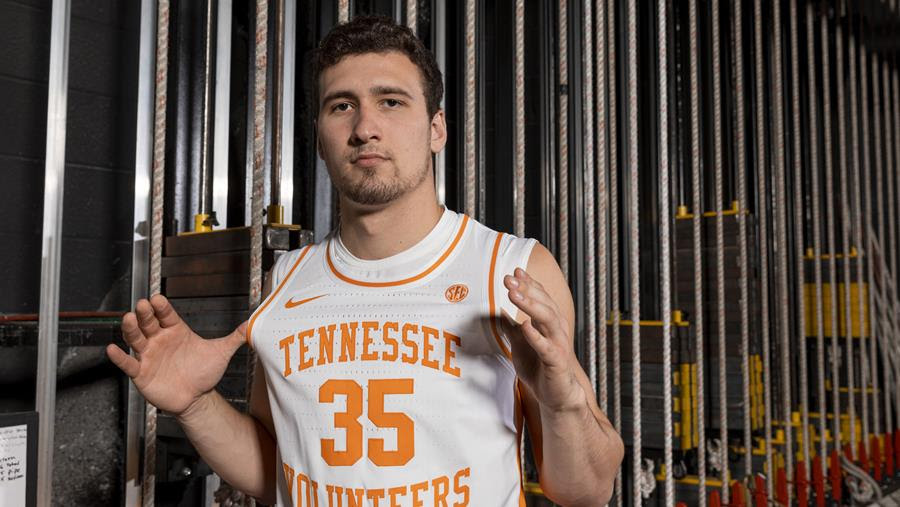 THE SERIES
• First-year ETSU head coach Desmond Oliver spent the last six seasons as an assistant coach with the Vols under Rick Barnes.
• Tennessee leads the all-time series with ETSU, 16-2, dating to 1945. The Vols are riding a 10-game win streak against the Buccaneers.
• These teams haven't met since the Vols managed a 72-68 win on Dec. 22, 2016, in Johnson City.
• The Vols have been ranked in the top 25 for three of their previous clashes with ETSU, winning each of them: No. 9 in 2000-01, No. 21 in 2006-07 and No. 11 in 2009-10.
• The Vols own a 95-17 all-time record against current members of the Southern Conference.
• ETSU Director of Athletics Scott Carter spent 10 years on the Tennessee Athletics development staff, rising to Assistant AD, before transitioning to ETSU.
• VFL Lucas Campbell (2015-19) is in his first season as ETSU's Director of Basketball Operations.

SCOUTING REPORT
• Super senior forward John Fulkerson hails from Kingsport, Tennessee, and his family home is just 27 miles northwest of the ETSU campus.
• In UT's opener, the Vols made a program-record 17 3-pointers on 40 attempts (.425). Freshman Kennedy Chandler was a perfect 4-for-4 from deep, while Santiago Vescovi tied his career-high with six triples.
• Tennessee's 23 offensive rebounds Tuesday were its most since Jan. 2, 2016, when the Vols grabbed 23 at Auburn.
• The Bucs have six Division I transfers on this year's roster.
• Vols freshman Jonas Aidoo was a prep teammate of ETSU freshman Isaac Farah last year at Liberty Heights Athletic Institute in Charlotte.
• ETSU freshman guard Cameron George is a Knoxville native who graduated last spring from William Blount High School.

LAYUP LINES
• As part of Tennessee's "Salute to Service Week," current military members, veterans and first responders may present a military ID, DD 214, license certification, state-issued ID, badge or other employer-issued identification at the Thompson-Boling Arena ticket office for complimentary admission Sunday.
• With sales of 13,525 to date, this marks the third straight full-capacity year that UT has exceeded 13,000 in season-ticket sales—that's more than the capacity of several Division I venues.

A WIN WOULD…
• Give Rick Barnes 729 Division I wins, tying Norm Stewart and Jerry Tarkanian for 16th on the NCAA's all-time list.
• Lift Tennessee to a 22-5 record against in-state opponents during the Barnes era.

ABOUT ETSU
• The Buccaneers come to Knoxville off a short turnaround, having opened the season on Friday night at Appalachian State—a 69-67 loss.
• For the past six seasons, ETSU head coach Desmond Oliver served as an assistant coach on Tennessee's staff under Rick Barnes. The 2021-22 season marks the first season for Barnes at Tennessee in which Oliver is not a member of the coaching staff.
• ETSU was picked to finish third in the 10-team Southern Conference by the league's coaches in the preseason, while redshirt junior guard Ledarrius Brewer and senior guard David Sloan were both named preseason All-SoCon.
• The Buccaneers return six players from their 2020- 21 squad, which advanced to the semifinals of the SoCon Tournament. ETSU's 2021-22 roster features six Division I transfers.
• Oliver is not the only former member of the Tennessee basketball program that is now on staff at ETSU. ETSU's Director of Basketball Operations is former Vol walk-on Lucas Campbell, who played for the Vols from 2015-19 and served as a graduate assistant with Tennessee's program for the past two seasons.
• ETSU has 10 NCAA Tournament appearances in program history, with its most recent coming in 2017. The Bucs won the 2020 SoCon Tournament and received an automatic bid for the NCAA Tournament prior to the tournament being canceled due to COVID-19.
• Sunday's game between ETSU and Tennessee marks the 19th all-time meeting between the programs and the first since 2016. The Buccaneers are one of five in-state teams the Vols are scheduled to face this season.

LAST MEETING WITH ETSU
• A career-high 25 points from Detrick Mostella led Tennessee to its first true road win of the 2015-16 season, a 72-68 victory over ETSU on Dec. 22, 2016, at Freedom Hall in Johnson City.
• Robert Hubbs III also finished in double figures, scoring 11 for the Vols. UT got a defensive boost from true freshman forward Grant Williams, who finished the game with a game-high nine rebounds (seven defensive) and four blocks.
• A tight one throughout, the Vols and Bucs battled through nine ties and 12 lead changes. Tennessee took its largest lead of the game at the halftime break, leading 32-23 after Mostella reeled of 13 straight points over the final 2:33 of the first half.
• Playing in front of a sell-out crowd at Freedom Hall, ETSU responded quickly after intermission. The Bucs hit five of their first six shot attempts, leveling the score at 36-36 before the half's first media timeout. Tennessee was able to stave off the push from the home team, responding with layups from Kwe Parker and Lew Evans to push the lead back to two possessions. That advantage grew to as many as seven when Mostella hit yet another jumper to situate things at 51-44 near the 12-minute mark.
• Refusing to go away, ETSU scored 11 of the game's next 15 points and took its first lead of the second half at 55-54 with nine minutes remaining.
• The lead teeter-tottered from there, with neither side gaining more than a two-point advantage until Mostella broke a 65-65 deadlock with two free throws and then a pull-up jumper with 29 seconds to play. Mostella's final points, coupled with some strong defensive possessions down the stretch from the Vols, proved enough to settle the in-state battle.
• Unknown at the time, three Vols' underclassmen who saw action in the game went on to log minutes in the NBA—Grant Williams, Admiral Schofield and Kyle Alexander.

VOLS SUCCESSFUL ON THE IN-STATE CIRCUIT
• Tennessee has won its last six games against in-state opponents and is 21-5 vs. in-state foes under coach Rick Barnes.
• Those 21 wins include triumphs over Vanderbilt (10x), Tennessee Tech (3x), ETSU (twice), Lipscomb (twice), Chattanooga, Memphis, Tennessee State and UT Martin.

VOLS RIDING EIGHT-GAME WIN STREAK IN NON-CONFERENCE GAMES
• Tennessee is riding an eight-game win streak in regular-season non-conference action.
• Tennessee was a perfect 7-0 in regular-season non-conference play last season, highlighted by wins over Kansas and Colorado. The Vols are 1-0 so far this year.
• UT's last regular-season non-conference loss came at No. 3 Kansas in the Big 12/SEC Challenge on Jan. 25, 2020.

THE FINNISHER, THE STARTER
• Finnish forward Olivier Nkamhoua, a junior from Helsinki, made his first career start in the Vols' season-opener. It was his 55th appearance as a Vol.
• In that season-opening win over UT Martin, Nkamhoua played 28 minutes and recorded his second career double-double with 11 points and a career-high 14 rebounds.
• Nkamhoua aims to help fill the void left by former SEC Defensive Player of the Year Yves Pons—now with the Memphis Grizzlies. Nkamhoua added two blocks and two steals against the Skyhawks.

NEW FACES EMERGE
• Six players made their Tennessee debuts against UT Martin Tuesday—Kennedy Chandler, Brandon Huntley-Hatfield, Zakai Zeigler, Justin Powell, Jahmai Mashack and Quentin Diboundje (in order of appearance).

UPDATE THE RECORDS IN PENCIL
• After the Vols shattered the program record for 3-pointers made (with 17) in their season-opener, it appears that section of the Tennessee records book is one to watch this winter.
• The Tennessee record for 3-point attempts in a game is 50, against North Carolina A&T on Nov. 27, 2007.
• In terms of 3-point attempts per game, the most the Vols have ever averaged is 25.6 per game in 2006-07. Look for that to be challenged this season.
• During the Rick Barnes era, the most 3-point attempts in a game is 40, which was set in this year's opener against UT Martin (Nov. 9).

FULKY PAYING IT FORWARD
• The day before Tennessee's season-opener, John Fulkerson announced that he'd be using a portion of his NIL earnings to donate $1 to the Tennessee Fund for every point the team scores this season.
• "My time as a Tennessee student-athlete has been life-changing and everything I could have asked for… This year, I've been very blessed to capitalize on some great NIL opportunities. And those opportunities would have never been possible without the amazing support I've received over the last five-plus years from so many people across the athletics department and campus. This is my way of giving back and saying, 'thank you,' for the incredible support I've received as a Tennessee student-athlete for all these years."

TRIP TO MOHEGAN SUN LOOMS
• Tennessee joins a loaded, field that also features North Carolina, Purdue and Villanova at the Mohegan Sun Resort in Uncasville, Connecticut, Nov. 20-21.
• The Vols are slated to open the weekend against Villanova on Saturday, Nov. 20, while North Carolina and Purdue will face off on the same day. The winners of each Saturday contest will meet in the championship game on Sunday, Nov. 21, following the losers playing a consolation game.
• Tennessee has previously faced all three of the opposing teams in this season's Hall of Fame Tip-Off during the Rick Barnes era.
• The Vols and eventual national champion Villanova met in the Battle 4 Atlantis during the 2017-18 season, with the Wildcats prevailing, 85-76.
• Also in the 2017 Battle 4 Atlantis, the day before facing Villanova, Tennessee defeated Purdue in overtime, 78-75. The Vols later fell to the Boilermakers in the 2019 Sweet Sixteen in another OT game, 99-94.
• Tennessee and North Carolina played a tightly-contested home-and-home series during the 2016-17 and 2017-18 seasons. The Tar Heels won the first game, 73-71, in Chapel Hill as well as the return trip to Knoxville the following season, 78-73.
-UT Athletics