No. 15/12 Tennessee (1-0) quickly turns its attention from Wednesday's opener and faces game number two of the 2021-22 campaign on Friday. The Lady Vols meet UCF (1-0) in Orlando, playing at 6:02 p.m. ET at Addition Financial Arena.

The game against the Knights marks the second of three tests in a six-day period for the Lady Vols, as they'll return home for a top-25 match-up on Monday vs. No. 21/22 USF.

Friday night's affair also marks the first of three consecutive tilts vs. 2021 NCAA Tournament teams for the Big Orange. UCF, USF and Texas advanced to the first, second and Elite 8 rounds, respectively, of last year's championship in the San Antonio area.

UT overcame injuries to starters Jordan Horston and Rae Burrell, and foul trouble for fellow starter Tamari Key on Wednesday night in Knoxville to thwart an upset bid by Southern Illinois, 59-49.

UCF, meanwhile, opened its year with a 68-39 home victory over Duquesne, outscoring the Dukes in the second half, 44-17.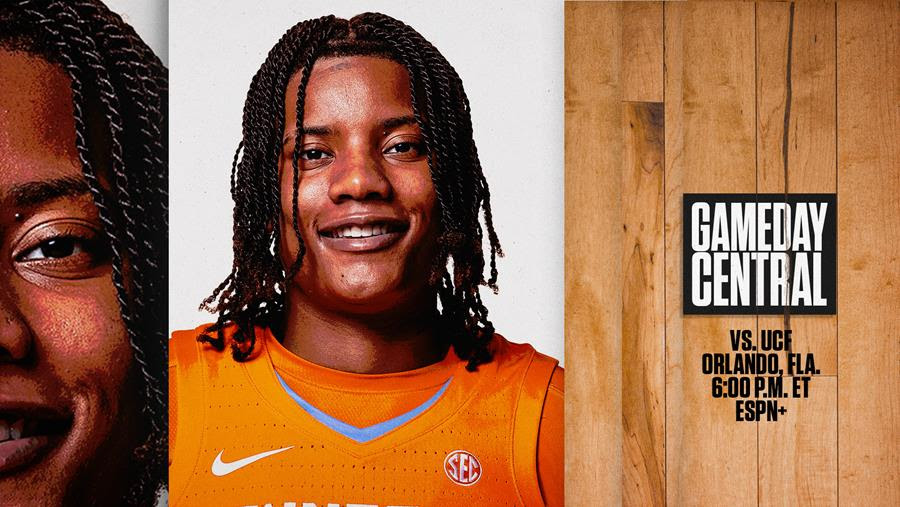 GAMEDAY TIMES & BROADCAST INFO
BROADCAST INFORMATION
Scott Adams (play-by-play), Leah Secondo (analyst) and Salena Schaffer-Roche will be on the call for the ESPN+ live stream.
All of the games included in the ESPN package (ESPN, ESPN2, ESPNU) will be available through WatchESPN, accessible online at WatchESPN.com, on smartphones and tablets via the WatchESPN app, and streamed on televisions through Amazon Fire TV, Apple TV, Chromecast, Roku, Xbox 360 or Xbox One to fans who receive their video subscription from an affiliated provider.
The contest also can be heard on Lady Vol Network radio stations and by audio stream, with Mickey Dearstone behind the microphone. Now calling the action for his 23rd season, Dearstone is joined by studio host Bobby Rader.
A link to the live audio stream can be found on each game's Hoops Central page or the Lady Vol schedule on UTSports.com.
For a list of Lady Vol Network affiliates, please click on the Fans tab at the top of UTSports.com, select Vol Network and then click on Vol Network Affiliates in the black bar at the top of the page.
Air time for games on the Lady Vol Radio Network generally occurs 30 minutes prior to tip-off.
LOOKING BACK AT THE LAST GAME
In a defensive battle, the No. 15/12 Tennessee women's basketball team took down Southern Illinois, 59-49, in the 2021-22 season opener on Wednesday night at Thompson-Boling Arena. The Lady Vols rode a late run to victory, outscoring the Salukis 17-2 in the last five minutes of play.
Tennessee (1-0) overcame the absence of its top three returners, as Jordan Horston did not play due to injury. Rae Burrell went down with an injury in the second quarter and was unable to return. Tamari Key accumulated fouls early and was held out of significant action until the fourth quarter.
Alexus Dye made her presence felt in her first game as a Lady Volunteer. The graduate transfer tallied 12 points and 13 rebounds for her 33rd career double-double. Graduate Jordan Walker led UT in scoring with 14 points, while Burrell tossed in 12 on 6-of-9 shooting before departing.
Walker and Sara Puckett came through in the clutch when the Lady Vols needed it. The two hit back-to-back 3-pointers halfway through the fourth after Tennessee had missed its first 13 tries from beyond the arc. They combined for 14 points in the final period as Walker contributed nine, Puckett five.
FIRST GAME NOTABLES
Tennessee utilized a 17-2 run over the final five-minutes and a 21-7 fourth-quarter to turn back SIU. Saddled with foul trouble the entire game, Tamari Key's inside presence for eight-and-a-half minutes in the final frame made a difference. She played only 14 for the entire contest.
UT went 0-8 last season in games in which it trailed entering the final five minutes. Tennessee earned a win vs. Southern Illinois after entering that territory down two. Conversely, UT was 17-0 a year ago when leading while heading into the final five minutes.
Tennessee forced no 10-second violations the entire 2020-21 season. With full-court pick-up defense from freshman Brooklynn Miles, UT caused SIU to commit that error on Wednesday night.
UT scored 59 points and yet came away with a win vs. the Salukis, thanks to its defense. A year ago, the Lady Vols were 0-4 when scoring fewer than 59.
Tennessee's 10 turnovers vs. Southern Illinois tied for the fewest committed by the Lady Vols during the Kellie Harper era.
Winning the rebounding battle vs. SIU, Tennessee now has won 47 of 57 board battles during the Harper era, while falling short seven times and tying twice. UT is 1-0 this season and was 22-2-1 (W-L-T on board advantages) last year and 24-6-1 in 2019-20.
NEXT UP FOR THESE TEAMS
Tennessee heads back home to Knoxville and welcomes No. 21/22 USF for a 6:30 p.m. contest (SECN+) on Monday. It will be the first meeting between those programs.
UCF next faces a road test at Virginia on Wednesday, battling the Cavaliers at 7 p.m. ET (ACCN+).
UT-UCF SERIES HISTORY
This marks the first meeting between Tennessee and UCF in women's basketball.
Kellie (Jolly) Harper and Katie Abrahamson-Henderson do share the distinction of previously serving as head coaches at Missouri State.
Harper was at MSU from 2013-19, while Abrahamson-Henderson led the Bears from 2002-07.
Harper and Abrahamson-Henderson both played college basketball, with each competing at an SEC school.
Harper played point guard for Pat Summitt and led Tennessee to three NCAA titles during a career spanning from 1995 to 1999.
Abrahamson-Henderson played two seasons for Andy Landers at Georgia before finishing her career at Iowa under C. Vivian Stringer.
UCF assistant coach Nykesha Sales played at UConn from 1994-98 and left Storrs as the program's all-time leading scorer.
Sales' and Harper's playing careers overlapped, with Sales winning an NCAA title at UConn as a freshman in 1995 and Harper claiming three straight from 1996-98 from her freshman through junior seasons. The battles between the schools at that time were epic events in women's sports that drew in even the casual sports fan.
Tennessee Director of Athletics and Vice Chancellor Danny White was the A.D. at UCF from 2015-21.
Vols head football coach Josh Heupel led the program at UCF from 2018 to 2020 before coming to Knoxville to take over UT's program in 2021. He has his program in the running for a bowl game in his first season at the helm when many did not predict him to do so.
ABOUT UCF
UCF returns 13 players and all five starters from last year's team that went 16-5 overall and 11-2 in the American Athletic Conference.
The Knights finished second in the AAC, made the AAC Tournament finals and earned a berth in the NCAA Tournament.
UCF limited opponents to 50.5 points per game in 2020-21, which was the top ranked scoring defense in Division I women's basketball last season. The Knights gave up only 39 points to Duquesne in the opener this season and limited the Dukes to 28.8 percent shooting.
Super senior guard Tay Sanders is a preseason All-AAC First-Team selection who earned league second-team honors a year ago.
Four other returnees received postseason honors in 2020-21, including Alisha Lewis (Newcomer of the Year and Sixth Player of the Year), Brittney Smith (All-AAC Third Team), Diamond Battles (AAC All-Tournament Team) and Masseny Kaba (AAC All-Tournament Team).
ABOUT THE HEAD COACH
Katie Abrahamson-Henderson is in her sixth season at UCF and in her 17th year as a head coach, with records of 106-45 and 347-153, respectively.
She has guided the Knights to NCAA berths (first round) in 2019 and 2021, and WNIT appearances (second round) in 2017 and 2018.
Among her career stops, "Coach ABE" was at Albany prior to UCF and guided her 2015-16 squad against UT in Knoxville, falling 63-55.
THE LAST TIME UCF PLAYED
UCF outscored Duquesne 44-17 in the second half to secure a 68-39 season-opening victory on Tuesday evening at Addition Financial Arena.
The Knights hit only 37.9 percent from the field for the game, but a 9-of-15 fourth-quarter shooting effort (60 percent) propelled a 26-8 blitz by UCF to put the game away.
Diamond Battles and Ahna Burney each hit four three-pointers and tallied 16 points to pace the Knights.
Masseny Kaba had 11 points and nine boards, while Destiny Thomas had a game-high 11 rebounds.
UCF tallied 14 steals and forced Duquesne into 23 turnovers that resulted in 21 points for the Knights.
The home team also scored 28 of its 68 points in the paint, while allowing only 14 to DU.
-UT Athletics