Full week of activities set for Nov. 14-21
Tennessee Athletics is proud to announce the return of a full Salute to Service Week of activities for Nov. 14-21, following Veterans Day.

This year's week-long celebration of Tennessee's ultimate Volunteers includes special recognitions, ceremonies, celebrations and opportunities for veteran and military families to attend a football, men's basketball, women's basketball and volleyball game free of charge (additional details provided below). Since the introduction of the week-long recognition in 2018, Tennessee Athletics has welcomed thousands of military and veterans from across the southeast to numerous athletics events as part of Salute to Service Week.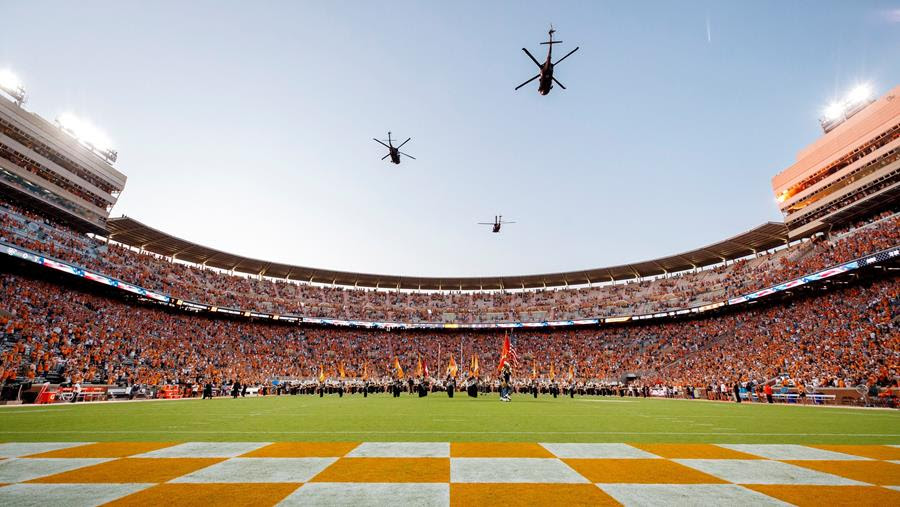 Football
Tickets to the Tennessee vs. South Alabama football game on Nov. 20 will be distributed directly to 10 local and state veteran, military and first-responder organizations that Tennessee Athletics has identified as longstanding partners. Individual military/veteran requests for tickets should be directed to www.VetTix.org

The Pride of the Southland Marching Band will perform a special halftime show dedicated to Veterans. Plans for a flyover during the Vol Walk, performed by a C-17 Globemaster III captained by UT alum Major Belfanti from the 14th Airlift Squadron, based at Joint Base Charleston, South Carolina, are in the works, but are dependent on weather conditions and other factors.

At halftime, a contracting and re-enlistment swearing-in ceremony will take place for 75 members of local military units.

Fans interested in purchasing tickets to the Salute to Service game are encouraged to visit AllVols.com.

Men's and Women's Basketball
During Salute to Service Week, current military members, veterans and first responders may present a military ID, DD 214, license certification, state-issued ID, badge or other employer-issued identification at ticket locations outside of Thompson-Boling Arena for complimentary admission to the designated men's basketball and/or women's basketball games for you and your immediate family (limit of 4 to 6, based on availability).

In addition to complimentary admission for active military and veterans, free parking and shuttle service is available for Vol and Lady Vol basketball games from UT's Ag Campus.

Volleyball
Current military members and veterans may present their military ID or DD 214 at the ticket tent located outside of Gate B for complimentary admission for themselves and their immediate families to Tennessee's Thursday and Friday matches against Alabama. Parking for Lady Vol volleyball is free.

Full List of Salute to Service Week Events
Sunday, Nov. 14 at 1 p.m. ET – Vol Basketball vs. ETSU
Monday, Nov. 15 at 6:30 p.m.ET – Lady Vol Basketball vs. South Florida
Thursday, Nov. 18 at 6:30 p.m. ET – Volleyball vs. Alabama
Friday, Nov. 19 at 6:30 p.m. ET – Volleyball vs. Alabama
Sunday, Nov. 21 at 1 p.m. ET – Lady Vol Basketball vs. Texas
Additional details and promotions during Salute to Service Week can be found at UTsports.com/FanExperience.

Military and First Responder Discount Offer
Tennessee Athletics is excited for the continuation of its veteran, military and first-responder offering. By using a special discount code, military members and first responders can receive a discount to the Tennessee vs. Vanderbilt football game (Nov. 27), select men's basketball contests and all women's basketball games. Discounted tickets are limited based on availability. Restrictions may apply.

Offer codes will be distributed directly to 10 local and state military, veteran and first-responder organizations. Entities wishing to receive an organizational discount code, may click HERE to apply. Individual veterans, military service members and first responders may also apply for an individual discount code by completing the form HERE. Discounted tickets must be purchased in advance using the provided promo code at AllVols.com or at the Tennessee Athletics ticket office. Discounts are not available on gameday.

To unlock the discounted price, enter your promotional code in the box provided on AllVols.com prior to selecting a game from the event list.
-UT Athletics