No. 15/12 Tennessee (2-0) faces its third straight veteran team and its first ranked foe of the season, as No. 21/22 South Florida (2-0) comes to Thompson-Boling Arena for a top-25 match-up of undefeated squads on Monday at 6:32 p.m. ET.

After playing a UCF lineup Friday night with five returning starters and 13 letterwinners that was last year's runner-up in the American Athletic Conference, the Lady Vols host the defending AAC champs who also welcome back all five starters and have nine total letterwinners. Both teams were NCAA Tournament squads a year ago and accustomed to playing top-notch basketball, having been in the same league with UConn for a number of years before the Huskies returned to the BIG EAST.

In the opener, the Big Orange played an SIU squad with all five starters and 10 letterwinners back.

Monday night's affair also marks the second of three consecutive tilts vs. 2021 NCAA Tournament teams for the Big Orange. UCF, South Florida and Texas advanced to the first, second and Elite 8 rounds, respectively, of last year's championship in the San Antonio area.

UT enters the contest after overcoming some adversity (injuries and foul trouble) in its first two contests to defeat Southern Illinois, 59-49, at home last Wednesday and UCF, 49-41, on the road on Friday. The Lady Vols' defensive effort was key in each victory, holding SIU to 36 percent shooting and UCF to 27 percent.

South Florida, meanwhile, opened its season with a 63-56 win over Texas-Rio Grande Valley and a 72-37 triumph over Alabama State, with both contests taking place in Tampa.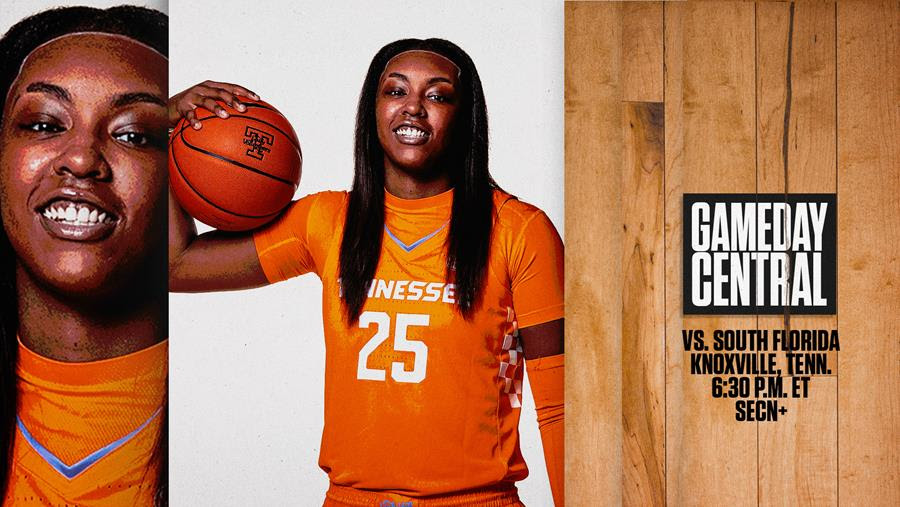 BROADCAST INFORMATION
Bob Kesling (play-by-play), VFL Steve Hamer (analyst) and Kasey Funderburg (reporter) will be on the call for the SECN+ live stream.
All of the games included in the ESPN package (ESPN, ESPN2, ESPNU) will be available through WatchESPN, accessible online at WatchESPN.com, on smartphones and tablets via the WatchESPN app, and streamed on televisions through Amazon Fire TV, Apple TV, Chromecast, Roku, Xbox 360 or Xbox One to fans who receive their video subscription from an affiliated provider.
The contest also can be heard on Lady Vol Network radio stations and by audio stream, with Mickey Dearstone behind the microphone. Now calling the action for his 23rd season, Dearstone is joined by studio host Bobby Rader.
A link to the live audio stream can be found on each game's Hoops Central page or the Lady Vol schedule on UTSports.com.
For a list of Lady Vol Network affiliates, please click on the Fans tab at the top of UTSports.com, select Vol Network and then click on Vol Network Affiliates in the black bar at the top of the page.
Air time for games on the Lady Vol Radio Network generally occurs 30 minutes prior to tip-off.
GAME PROMOTIONS
Salute to Service – Current military members and veterans who present their Military ID or DD 214 at the gates upon entry receive complimentary admission for themselves & immediate family members at Lady Vol games this week vs. South Florida (Monday, Nov. 15) and Texas (Sunday, Nov. 21).
In addition to complimentary admission for active military and veterans, free parking and shuttle service is available for Lady Vol basketball games from UT's Ag Campus.
This year's week-long celebration of Tennessee's ultimate Volunteers includes special recognitions, ceremonies, celebrations and opportunities for veteran and military families to attend a football, men's basketball, women's basketball and volleyball game free of charge. Since the introduction of the week-long recognition in 2018, Tennessee Athletics has welcomed thousands of military and veterans from across the southeast to numerous athletics events as part of Salute to Service Week.
Second Harvest – Donate two non-perishable food items and receive one complimentary ticket to the South Florida game. Donations benefit the Second Harvest Food Bank.
For more information about promotions, parking and fan information, please visit the Fans tab on UTSports.com and go to the Fan Experience page.
NEXT UP: 12K IN TBA FOR TEXAS GAME
Tennessee has a few days to recover from its recent binge of games and prepare for its second straight ranked opponent, as No. 25/21 Texas comes to Knoxville on Sunday for a 1 p.m. marquee match-up.
That contest will have a special 12K in TBA promotion, where the goal is to reach 12,000 in attendance.
Fans showing their ticket from Saturday's football game vs South Alabama will receive free admission.
There will be $5 tickets for all price zones (excluding courtside) available in advance or on game day, plus $1 tickets for kids 12 & under.
All UTK faculty and staff receive two complimentary tickets and an offer to purchase additional tickets at a discounted rate.
Up next for South Florida is a meeting with Syracuse on Saturday at 2:30 p.m. at the Battle 4 Atlantis in the Bahamas.
LOOKING BACK AT THE LAST GAME
The No. 15/12 Tennessee Lady Vols came out on top, 49-41, in a hard-fought battle on the road against UCF at Addition Financial Arena last Friday night.
Jordan Horston returned to the lineup after missing the season opener and did not disappoint. The junior guard finished with her second-career double-double, recording 14 points, 11 rebounds, three assists, one block and one steal in 30 minutes of action.
Thanks to a stifling defensive effort, UT (2-0) held its second-straight opponent to less than 50 points. The Lady Vols allowed the Knights (1-1) to shoot just 27 percent from the field and 3-of-13 from beyond the arc while also forcing 24 turnovers that led to 20 points on the offensive end.
UCF, which boasted the nation's best scoring defense in 2020-21, gave Tennessee's offense some trouble at times and used a late run to cut it to a two-possession game. However, the Lady Vols would never trail again after taking a 3-2 lead in the opening minutes of the contest.
Freshman Sara Puckett had a solid performance, recording eight points, four rebounds, two assists and one block. Sophomore Tess Darby knocked down a pair of threes to finish with a career-high eight points on the night. Graduate Keyen Green added seven points, four boards and a pair of steals, while graduate Alexus Dye posted eight rebounds, five points, three steals and two assists.
NOTABLES FROM OUR LAST GAME
STIFLING SECOND STANZA DEFENSE: The Lady Vols held UCF to 1-of-10 shooting and just five points in the second quarter. UT's five points allowed were the eighth fewest in a quarter in program history and the second fewest in a second quarter.
HARPER'S 10 UNDER 50: For the 10th time during the Kellie Harper era and second time this season, the Lady Vols held their opponent to fewer than 50 points. After allowing 49 points in its season-opening win against Southern Illinois, Tennessee posted back-to-back sub-50 point defensive efforts for the first time since holding Tennessee State (43) and Stetson (46) under the mark on Nov. 14 and 19, 2019.
KEY MOVES INTO TIE ON UT BLOCK LIST: Tamari Key finished the game vs. UCF with one block, giving her 161 rejections for her career. That total moved her into a tie for seventh with Nicky Anosike in the Lady Vol record books.
TRACKING THE LADY VOLS
Tennessee has started a season 2-0 for the eighth year in a row and will attempt to improve to 3-0 for the eighth time in nine seasons. UT dropped a road game in overtime at West Virginia in game three of the 2020-21 campaign.
The Lady Vols enter Monday night's contest ranked No. 29 nationally in scoring defense, allowing 45.0 points per game.
The Big Orange scored 49 points in the win over UCF on Friday night, marking only the second time in school history the Lady Vols scored fewer than 50 points and won a game. The other occasion came at the 2008 NCAA Final Four, when UT registered a 47-46, last-second win over LSU in the semifinals in Tampa.
Following her 14-point 2021-22 debut effort vs. UCF, Jordan Horston has scored in double figures in five of her last six games, including four of the last five contests in 2020-21.
Graduate transfer Alexus Dye, who averaged 12.6 rebounds per game last season at Troy, is pulling down 11.5 rpg. this season. She is second behind Jordan Horston (11.0 rpg.) in that category and is first in minutes per contest (33.5) and steals per game (2.0).
Freshman Brooklynn Miles is averaging the third-most minutes on the team (28.5) and has recorded five assists in two games while committing only three turnovers.
Tennessee has five active regulars hitting 46 percent and above from the field entering the South Florida game, including Brooklynn Miles (66.7), Tamari Key (60.0), Sara Puckett (57.1), Keyen Green (50.0) and Jordan Horston (46.2). Reserve freshman Karoline Striplin also is hitting 50.0 percent in limited action.
UT went 0-8 last season in games in which it trailed entering the final five minutes. Tennessee earned a win vs. Southern Illinois after entering that territory down two. Conversely, UT was 17-0 a year ago when leading while heading into the final five minutes.
Tennessee forced no 10-second violations the entire 2020-21 season. With fullcourt pick-up defense from freshman Brooklynn Miles, UT caused SIU to commit that error last Wednesday night.
UT scored 59 points vs. SIU and 49 vs. UCF and yet came away with a win vs. both teams, thanks to its defense. A year ago, the Lady Vols were 0-4 when scoring fewer than 59.
Winning the rebounding battle vs. UCF, Tennessee now has won 48 of 58 board battles during the Harper era, while falling short seven times and tying twice. UT is 2-0 this season and was 22-2-1 (W-L-T on board advantages) last year and 24-6-1 in 2019-20.
The Lady Vols' best quarter in 2021-22 thus far has been the fourth. UT has scored its most points (36) and allowed the fewest (18) of any frame.
In only 16 of 58 games has a team hit 40 percent or better from the field during the Kellie Harper era of Lady Vols basketball.
UT-USF SERIES HISTORY
This marks the first meeting between Tennessee and South Florida in women's basketball.
The Lady Vols are 35-4 vs. schools currently in the American Athletic Conference.
UT most recently played an AAC school when it faced UCF on Friday night, securing a 49-41 victory over the Knights at Addition Financial Arena in Orlando.
Tennessee has no Floridians on this year's roster, but South Florida features Nashville native Sydni Harvey, who played her high school ball at Brentwood Academy.
South Florida guard Bella Weary is the daughter of Fred Weary, but he's the former defensive back from Florida (1994-97) and not the former offensive lineman of the same name from Tennessee (1998-2001).
ABOUT SOUTH FLORIDA
South Florida was 4-24 overall and 1-15 in Jose Fernandez's first season at the helm, but the 23rd year head coach has built the Bulls into one of the nation's most successful programs.
USF has won 20 games nine times since 2004-05 and produced 19-win campaigns on five other occasions.
South Florida fashioned its best-ever American Athletic Conference record at 13-2 in 2020-21 to claim its first-ever championship in that league.
In addition to USF being picked first in the 2021-22 AAC preseason poll, the Bulls had five players named to the preseason all-conference team.
Elena Tsineke, Bethy Mununga and Dulcy Fankam Mendjiadeu were named to the first team, while Sydni Harvey and Elisa Pinzan were second-team choices.
ABOUT THE HEAD COACH
South Florida is coached by Jose Fernandez, the 2018 and 2021 American Athletic Conference Coach of the Year.
He is 394-276 in his 23rd year as a collegiate head coach, all at USF.
Fernandez has guided the Bulls to 16 postseason berths, including seven trips to the NCAA Tournament and nine to the WNIT.
USF, which made the NCAA Second Round last season, has been to that tournament in five of the past six seasons in which it has been held and, like UT, would have gone in 2019-20, had their been one.
THE LAST TIME THE BULLS PLAYED
Sydni Harvey scored 16 of her 22 points in the first quarter to lead No. 21/22 South Florida in a 72-37 rout of Alabama State last Thursday night.
Dulcy Fankam Mendjiadeu added 14 points and three steals for South Florida (2-0). Maria Alvarez scored 10 points.
Harvey made all four of her 3-point attempts in the first quarter, as the Bulls built a 21-5 lead and pushed it to 39-14 at intermission. She was seven of 11 from the field and six of eight from long range.
South Florida used an 8-0 run over a four-minute stretch and a 15-3 run in just under six minutes within the first quarter to take control of the contest from the get-go. The Bulls shot an impressive 62.5 percent (6 of 8) from behind the three-point arc in the first 10 minutes and never looked back.
-UT Athletics