KNOXVILLE, Tenn. – The 17th-ranked Tennessee men's basketball team plays its first game away from home of the season Saturday, taking on No. 5 Villanova at 1 p.m. ET at Mohegan Sun Resort in Uncasville, Connecticut.
Fans can catch Sunday's game on ESPN News and online or on any mobile device through WatchESPN. WatchESPN can be accessed through the ESPN App, or online at espn.com/watch. Jon Sciambi (play-by-play) and Fran Fraschilla (analysis) will have the call.
 
Fans can also listen live on their local Vol Network affiliate to hear John Wilkerson and Bert Bertelkamp describing the action. The broadcast is also available on channel 85 on Sirius, SiriusXM and the SiriusXM app.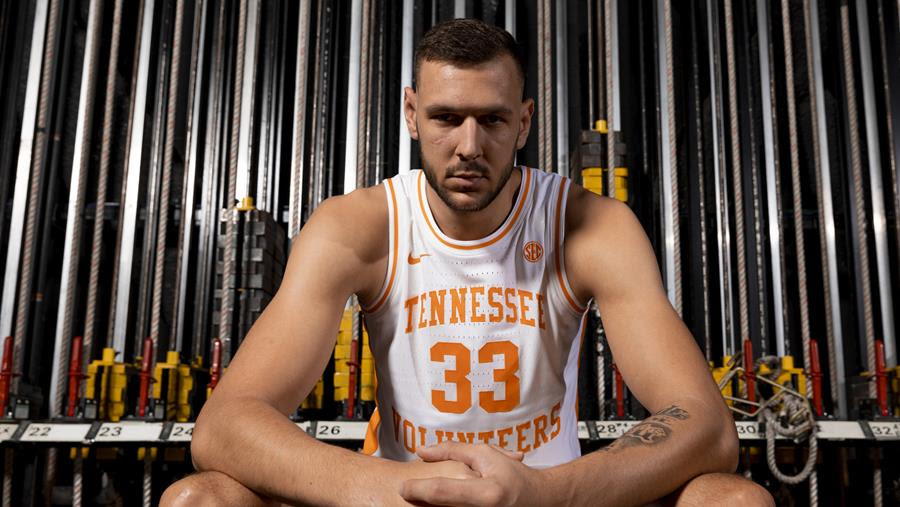 Last time out, Tennessee defeated in-state foe ETSU, 94-62. Making his second career start, junior forward Olivier Nkamhoua set a career-high with 23 points on 9-of-14 shooting from the field. He also knocked down both three pointers he attempted and secured eight rebounds. Freshman Kennedy Chandler had another standout performance in his second collegiate game, scoring all 16 of his points in the first half on 6-of-9 shooting. He added six assists, five rebounds and three steals.
 
Saturday's matchup between Tennessee and Villanova is the fifth all-time between the schools and first since the 2017 Battle 4 Atlantis. It also marks the Vols' first regular season neutral site game since the 2019 Emerald Coast Classic, when No. 17 Tennessee defeated No. 20 VCU, 72-69.
 
Following Saturday's game, the Vols will be back on the hardwood in a hurry. Tennessee will be back at Mohegan Sun Arena on Sunday, facing either No. 6 Purdue or No. 18 North Carolina. If the Tennessee wins on Saturday, it will face the winner of Purdue-North Carolina in the championship game at 1 p.m. on Sunday on ABC. If Tennessee loses on Saturday, it will face the loser of Purdue-North Carolina at approximately 3:30 p.m. ET on ESPN.
 
THE SERIES
• Tennessee trails the all-time series with Villanova, 1-3, dating to 1950.
• After the first two meetings took place in Philadelphia, the two most recent clashes have come at neutral sites.
• The Vols' lone win in the series was a 78-68 triumph in the championship game of the 2011 NIT Season Tipoff in New York City's Madison Square Garden.
• In the most recent meeting—at the 2017 Battle 4 Atlantis—the Vols led the Wildcats by 12 at halftime (46-34), but Villanova rallied to post an 85-76 victory.
• Tennessee owns a 30-26 all-time record against current members of the Big East Conference.
• Rick Barnes is 9-8 against Villanova as a head coach. He was 7-6 against the Wildcats during his six-year tenure at Providence.
• Barnes is 2-2 in head-to-head coaching matchups with Jay Wright.
 
SCOUTING REPORT
• Reigning SEC Freshman of the Week Kennedy Chandler has been impressive through his first two games as a Vol, leading the team in scoring (18.0 ppg), assists (5.0 apg), field-goal percentage (.684) and 3-point percentage (.857).
• In his first year as a starter, junior forward Olivier Nkamhoua is averaging a double-double with 17.0 points and 11.0 rebounds.
• 43 percent of Tennessee's points this season have been scored by first-year Vols (79 of 184).
• Through the games of Nov. 16, Tennessee ranks second in the country in offensive rebounding, grabbing an average of 21.0 offensive boards per game. And Tennessee's offensive rebounding percentage of 48.3 is the third-highest in the country.
• ESPN analyst Fran Fraschilla, who is calling Saturday's game, is a former Rick Barnes staffer, as he was an assistant coach on Barnes' staff at Providence in the early 1990s. Fraschilla also is the father of Villanova Video Coordinator Matt Fraschilla.
 
LAYUP LINES
• Tennessee and its fanbase are quite familiar with all three opposing teams in this Hall of Fame Tipoff field. The Vols played Purdue in 2017 and 2019, faced North Carolina in 2016 and 2017, and clashed with Villanova in 2017.
• This weekend's games mark just the second and third contests the Vols have ever played in the state of Connecticut. UT's only previous appearance in The Constitution State was a 72-61 loss to eighth-ranked UConn in Hartford on Jan. 22, 2011.
 
A WIN WOULD…
• Stand as Tennessee's fifth upset over a top-five team under Rick Barnes. Barnes' Vols previously logged three wins over Kentucky teams ranked No. 4, along with an upset of top-ranked Gonzaga.
• Be Tennessee's 29th all-time win over an AP top-five opponent.
 
ABOUT VILLANOVA
• Along with a pair of wins over Mount St. Mary's and Howard, Villanova (2-1) enters the Basketball Hall of Fame Tip-Off Tournament having already faced a ranked opponent, as the Wildcats fell in overtime to No. 2 UCLA last Friday in Los Angeles, 86-77.
• Last season, Villanova finished 18-7 (11-4 Big East), captured the Big East regular-season title and earned a No. 5 seed in the NCAA Tournament—advancing to the Sweet Sixteen before being eliminated by eventual national champion Baylor.
• Villanova returns four of its top five scorers from last season to its 2021-22 squad, including AP Preseason First Team All-American and Big East Preseason Player of the Year Collin Gillespie.
• Villanova was chosen to win the Big East regular-season title in the Big East Preseason Coaches' Poll. Graduate forward Jermaine Samuels and junior guard Justin Moore were preseason Second Team All-Big East selections.
• Gillespie and Samuels are taking advantage of a fifth year of eligibility that was granted by the NCAA due to the effects of the pandemic last season.
• Tennessee head coach Rick Barnes owns a 42-49 record against current Big East teams and is 9-8 against Villanova, with the majority of those contests coming when Barnes coached at Providence.
• Tennessee has faced Villanova one previous time during the Barnes era—also at an early-season tournament. On Thanksgiving Day at the 2017 Battle 4 Atlantis, the eventual national champion Wildcats defeated the Vols, 86-75.
• Previously, in the 2011 NIT Season Tip-Off championship game, No. 24 Tennessee defeated No. 7 Villanova, 78-68. The other two previous meetings between the schools came in 1950 and 1971—both in Philadelphia and both Villanova wins.
 
LAST MEETING WITH VILLANOVA
•  A sloppy second half spelled trouble for Tennessee on Nov. 23, 2017, as its 12-point halftime lead wasn't enough to hold off No. 5 Villanova, ultimately falling 85-76 in the semifinals of the Battle 4 Atlantis.
•  Eventual SEC Player of the Year Grant Williams led the Vols in scoring, finishing with 20 points to go along with a game-high eight rebounds. Admiral Schofield scored 16 points and James Daniel III added 10 off the bench.
•  Tennessee looked poised to grab its second consecutive ranked win (UT beat No. 18 Purdue one day prior) after it used a 15-4 run midway through the first half to claim a 10-point advantage. Williams scored six points, including an emphatic slam along the baseline, and Jordan Bowden buried one his of three 3-pointers in the frame to power the spurt.
•  The lead would grow to as many as 15 with 1:39 left in the first half, and UT took a 46-34 advantage into the break. Tennessee enjoyed 50 percent shooting (17-of-34) in the first half while scoring 15 second-chance points.
•  But Villanova shot out of the second-half gate, needing fewer than five minutes to level the score. The Wildcats scored the first 11 points of the second half. Forcing 12 second-half turnovers while shooting 52 percent from the field, Villanova extended its advantage to 15 points with 4:40 to play. 
•   Tennessee would not go away quietly, whittling the deficit to 79-76 with less than a minute remaining, thanks in large part to the combined efforts of Williams and Schofield. That was as close as the Vols would come, though, as Villanova—which attempted 37 free throws on the afternoon—put the game away at the foul line.
•   John Fulkerson (Tennessee) and Collin Gillespie (Villanova) both saw action off the bench in this game.
 
VOLS SEEKING 15th RANKED WIN UNDER BARNES
• Under Rick Barnes, the Vols have logged 14 victories over AP ranked opponents, including five wins over top-10 teams.
 
VOLS RIDING NINE-GAME WIN STREAK IN NON-CONFERENCE GAMES
• Tennessee is riding a nine-game win streak in regular-season non-conference action.
• Tennessee was a perfect 7-0 in regular-season non-conference play last season, highlighted by wins over Kansas and Colorado. The Vols are 2-0 so far this year.
• UT's last regular-season non-conference loss came at No. 3 Kansas in the Big 12/SEC Challenge on Jan. 25, 2020.
 
BOOST FROM THE BENCH
• Through two contests, Tennessee's bench is averaging 32.0 points per game. The Vols' reserves are outscoring the opponents' reserves by 20.5 points per game.
• Justin Powell has scored in double figures off the bench in both games.
 
VOLS' DEPTH EXTENDS TO SCORING
• Tennessee boasts impressive depth not only in terms of capable rotation players, but also as it relates to explosive scoring ability.
• Six different Vols have scored 20+ at least once in their career.
• Victor Bailey Jr. and John Fulkerson both have a team-high four career 20-point games, followed by Santiago Vescovi, who has three. Justin Powell has two 20-point games under his belt, and Kennedy Chandler and Olivier Nkamhoua each have one.
 
UNDER BARNES, VOLS ARE 73-24 AS AN AP-RANKED TEAM
• Tennessee has played 97 games as a ranked team (AP Poll) under head coach Rick Barnes, and the Vols are 73-24 (.753) in those contests.
-UT Athletics