Nigel Warrior and Ethan Wolf had an unforgettable week, recording their first NFL tackle and reception, respectively, highlighting the 16th week of play for former Tennessee Volunteers in the NFL.
Jalen Reeves-Maybin continued to make an impact on the Detroit defense. This week, he notched seven tackles, forced a late fumble that gave the Lions a chance to win the game, and recorded a pass breakup. His head coach Dan Campbell has taken notice of his play recently, saying "when he's been out there on defense and on special teams he's just, he makes plays. He's a football player. That doesn't go unnoticed."
For the Vol-heavy New Orleans Saints, Ethan Wolf made a pair of catches on Monday Night Football after being elevated from the practice squad earlier that day. After spending his first four seasons on various practice squads, Wolf recorded his first career NFL reception in his second NFL game. Bryce Thompson was also elevated to the 53-man roster for the first time in his young NFL career. Shy Tuttle tied a career high with six tackles, and Alvin Kamara led the team in rushing with 52 yards after being named to the 2022 NFL Pro Bowl (his fifth Pro Bowl nod) last Wednesday.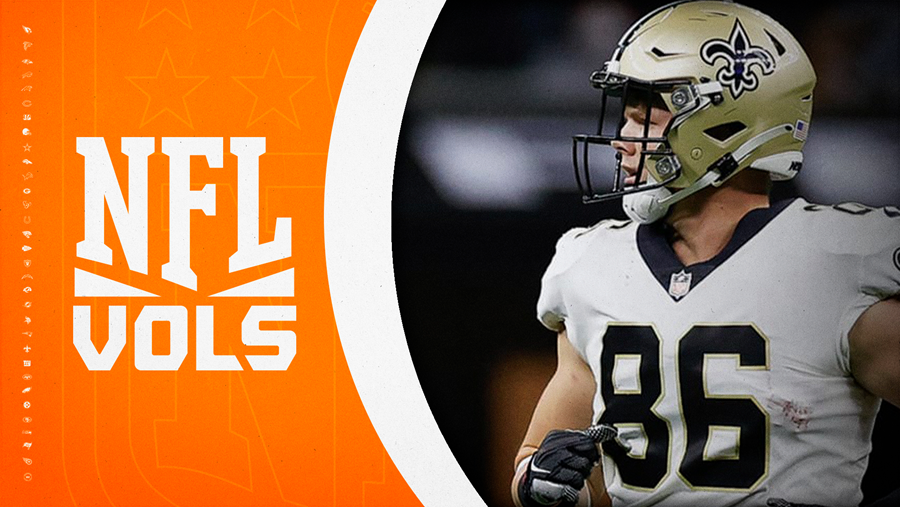 Joshua Palmer caught his third touchdown of the season for the Chargers. The rookie had five receptions in total, amassing 43 yards against the Texans.
Cordarrelle Patterson found the endzone on the ground, his sixth rushing touchdown this year and 11th total, as the Falcons picked up a 20-16 win at home.
Nigel Warrior secured a career milestone, wrapping up his first NFL tackle on a snowy Sunday afternoon in Seattle.
A full recap of the Vol performances below as the teams enter week 17 action hoping to put their squads in playoff contention with only two weeks remaining in the NFL regular season.
Derek Barnett – DE – Eagles
Wrapped up four tackles in a win over the Giants
Marquez Callaway – WR – Saints
Caught four passes for 46 yards against Miami
Justin Coleman – DB – Dolphins
Placed on the COVID-19 Reserve list for week 16
Dustin Colquitt – P – Browns
Only had one punt for 37 yards against Green Bay
Morgan Cox – LS – Titans
Successfully converted nine snaps (five punts, two extra points, two field goals) in a Thursday night victory over the 49ers
Jason Croom – TE – Eagles
Injured Reserve
Joshua Dobbs – QB – Steelers
Injured Reserve
Alex Ellis – TE – Cardinals
Practice Squad
Malik Jackson – DT – Browns
Had one tackle against the Packers
Ja'Wuan James – OL – Ravens
Injured Reserve
Jauan Jennings – WR – 49ers
Made a pair of grabs for 19 yards against the Titans
Alexander Johnson – LB – Broncos
Injured Reserve
Jakob Johnson – FB – Patriots
Caught one pass for nine yards in a loss to Buffalo
Alvin Kamara – RB – Saints
Gained 52 yards on the ground in 13 attempts on Monday night against the Dolphins. Kamara was named to the 2022 NFL Pro Bowl last Wednesday
John Kelly – RB – Browns
Practice Squad
Josh Malone – WR – Packers
Practice Squad
Khalil McKenzie – G/DT – Ravens
Returned to action with Baltimore, securing a pair of tackles against Cincinnati
Emmanuel Moseley – CB – 49ers
Injured Reserve
Michael Palardy – P – Dolphins
Had six punts for 255 yards, three of which were downed inside the 20
Joshua Palmer – WR – Chargers
Had his third touchdown reception of the season and picked up 43 yards on five catches against Houston
Cordarrelle Patterson – WR – Falcons
Scored Atlanta's opening touchdown on the ground in a 20-16 win over Detroit
Kyle Phillips – DL – Jets
Made one tackle in a 26-21 win over the Jaguars
Jalen Reeves-Maybin – LB – Lions
Continues to produce at a high level, making seven tackles, forcing his second fumble of the season, and adding a pass breakup
Trey Smith – OL – Chiefs
Did not allow a sack in 69 snaps against Pittsburgh in a 36-10 victory
Luke Stocker – TE – Vikings
Played in his 10th contest this season against the Rams
Cameron Sutton – CB – Steelers
Started his 14th game of the season at Kansas City
Darrell Taylor – DE – Seahawks
Recorded three tackles against Chicago
Bryce Thompson – CB – Saints
Called up to the Saints' active roster for the first time in his career
Shy Tuttle – DL – Saints
Tied a career high with six tackles on Monday Night Football against the Dolphins
Kendal Vickers – DE – Raiders
Did not play in the win over Denver
Nigel Warrior – DB – Seahawks
Registered his first career NFL tackle against Chicago
Ethan Wolf – TE – Saints
Made his first career NFL reception, catching two passes for eight yards on Monday night
-UT Athletics