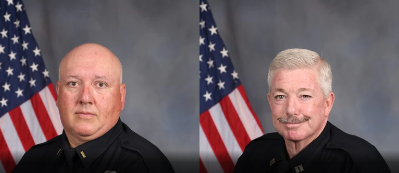 A veteran Knoxville Police Department lieutenant is fired and a captain suspended for 10 days by Knoxville Police Chief Paul Noel for alleged racist behavior at the department.
WVLT says the investigation centered on the actions of Lieutenant Michael Earlywine, Captain Donald Jones and Deputy Chief Kenny Miller after another officer, DionDré Jackson, complained about a racist and hostile working environment, according to an Internal Affairs Unit report.
Jackson, who is Black, originally made a complaint after another officer, Adam Broome, who is white, made racist comments to him. This original incident reportedly happened in a parking lot in 2019.
After Broome's comments, Jackson reportedly met with several of his superiors, including Earlywine and Jones, to complain about what happened. Throughout the investigation, Earlywine told Internal Affairs that he was never told the specifics of Jackson and Broome's disagreement.
The firing of Earlywine and suspension of Jones stem from how they reacted when confronted about the department's work environment. Broome officially resigned during the original investigation into his behavior on in June of 2020.
Knoxville Police Chief Paul Noel made the final decision on the termination and suspension. Afterward, he sent an internal email to the department explaining why he decided to terminate Earlywine and suspend Jones, as well as his expectations of the department going forward which is the accountability of officers and the importance of holding themselves accountable for their actions and each another accountable for their actions," Noel says discipline will always be fair and impartial.